Published on August 14, 2020
Strahan, Hackbarth announce retirements from Owensboro Health
By Renee Beasley Jones, Messenger-Inquirer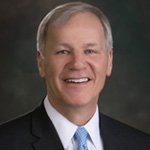 Greg Strahan
President & CEO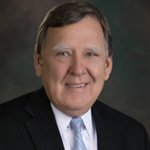 John Hackbarth
Executive VP / Chief Financial Officer
Owensboro Health — the largest employer in the state west of Louisville — announced Thursday the upcoming retirement of its top two executives.
Greg Strahan, president and CEO, and John Hackbarth, chief financial officer, plan to retire effective Feb. 1, 2021.
The pair is credited with a string of accomplishments that helped spur area economic development and reimagined the region's health-care landscape.
Brittaney Johnson, president and CEO of the Greater Owensboro Economic Development Corp., expressed appreciation for Strahan and Hackbarth's years of service to OH and dedication to the region's communities.
Strahan and Hackbarth have been masterful caretakers of OH, an asset that provides many benefits to Owensboro, Daviess County and western Kentucky, Johnson said.
"The transformation of the Owensboro Health system throughout the last decade has been remarkable," she said.
For example, Strahan and Hackbarth played key roles in building OH Regional Hospital, a $450 million project that opened in 2013.
Under their leadership, the health system added a second hospital — OH Muhlenberg Community Hospital — and is preparing to welcome a third — Twin Lakes Regional Medical Center. In 2018, OH also expanded its reach by opening Healthplexes in Madisonville, Henderson and Powderly.
During Strahan and Hackbarth's tenure, OH Medical Group grew from 19 providers to more than 200. To put that in perspective: The American Medical Association estimates each Kentucky doctor has a total annual economic impact of about $1.9 million.
Also, OH teamed up with the University of Louisville to develop a local family medicine residency program, which recently accepted its first residents. The OH team expects the program to be a future physician recruitment tool.
While Strahan and Hackbarth were at the helm, the health system hit national benchmarks for quality and financial performance.
And, while hundreds of hospitals nationwide laid off employees earlier this year during the pandemic, Strahan, Hackbarth and other members of the executive team managed to keep all 4,300 employees on the payroll.
"All of that is really good for our community," said Owensboro Mayor Tom Watson.
"(OH) is a very important component in our community," Watson said. "It's important that the mission continues."
Daviess County Judge-Executive Al Mattingly said Strahan and Hackbarth's positions are important, and both have served faithfully.
When Mattingly served on the Owensboro City Commission, he supported OH's plans to expand regionally because it was clear small, rural hospitals were struggling to survive.
"They certainly have had a huge economic impact on our community, particularly since they became a regional hospital," Mattingly said.
Prior to taking over the top spot in 2016, Strahan worked nine years as the health system's chief operating officer. He also served two years as vice president of business development and community health services.
"I am forever grateful to have been part of the Owensboro Health story," Strahan said in a press release. "It is simply amazing to reflect on everything that we have accomplished as an organization over the past decade. The credit belongs to our team members, providers and volunteers who carry out our mission every day. Owensboro Health truly is a special place, and I am proud to be part of it."
Hackbarth has served as the system's CFO since March 2008. Under his leadership, the health system recently achieved positive financial ratings from two major bond agencies and surpassed 200 days of cash on hand.
"It is extremely gratifying to have been part of Owensboro Health's success," Hackbarth said in a press release. "We have built an incredible team of 4,300 team members, and it is our honor to help shape the health and economy of this region."
Strahan and Hackbarth built a strong foundation that allowed OH to accomplish a great deal for the region's health and economy, said Jeff Carpenter, chairman of the OH Board of Directors.
"Their visionary leadership and commitment to financial health have set the stage for more growth and development in the future," Carpenter said in a press release.
He will chair the board committee in search of the next CEO. The process is expected to take at least six months.
Blaine Piper, CEO of Ohio County Healthcare, said he always welcomed Strahan's efforts to improve relationships between the neighboring health systems.
"Regional health care is better served through focusing on collaboration," Pieper said. "I have particularly appreciated (Strahan's) regional leadership during the present pandemic, and look forward to working with him and the rest of the (OH) leadership team in addressing health-care needs of our region."
Renee Beasley Jones, 270-228-2835, rbeasleyjones@messenger-inquirer.com
About Owensboro Health
Owensboro Health is a nonprofit health system with a mission to heal the sick and to improve the health of the communities it serves in Kentucky and Indiana. The system includes Owensboro Health Regional Hospital, nationally recognized for design, architecture and engineering; Owensboro Health Muhlenberg Community Hospital; Owensboro Health Twin Lakes Medical Center; the Owensboro Health Medical Group comprised of over 200 providers at more than 20 locations; three outpatient Healthplex facilities, a certified medical fitness facility, the Healthpark; a surgical weight loss center and program, and the Mitchell Memorial Cancer Center.
On average each year, we have 16,000 inpatient admissions, deliver 2,000 babies and provide the region's only Level III NICU. Owensboro Health physicians perform nearly 24,000 surgical procedures, including nearly 200 open-heart surgeries. Our physicians and staff have 70,000 Emergency Department visits, more than a million outpatient visits annually. Visit our home page for more information.