Published on April 06, 2021
The MacGyver approach: OH staff design, make equipment to meet COVID-19 challenges
By Renee Beasley Jones, Messenger-Inquirer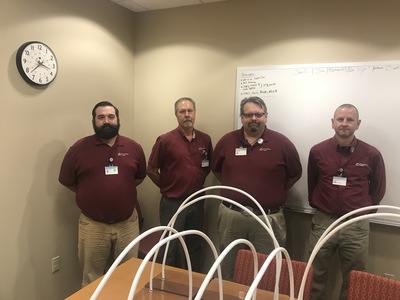 Adam Stangle , Mike Welch, Dan Clark, Kyle Daily
What do hospitals do when they run low on face shields to fight the coronavirus?
Well, at Owensboro Health Regional Hospital, the facilities team took the MacGyver approach and made their own — out of ace bandages, foam and laminating sheets.
At a cost of under $1 each, to boot.
In the past, the health system paid vendors nearly $3 each for them.
Better yet, OHRH put the design and instructions on the web for other health systems to use.
And how about those critical N95 medical face masks that no one — including Gov. Andy Beshear — can beg, borrow or steal nowadays?
OHRH staff developed a process to sterilize and reuse them. Then, hospital officials shared the process with another Kentucky hospital — and will make it available to any health system that asks.
If that isn't enough, OHRH's facilities crew and biomedical department teamed up recently to design and make a halo device with a drape that reduces risks for medical teams when they intubate COVID-19 patients.
The OHRH team has made 30 so far.
Again, the health system is sharing the design with any health group that needs it.
Fighting this worldwide pandemic has brought out the best in OHRH's team, said Joe Taylor, executive director of facilities.
"It's fun to see people rise to the call," Taylor said. "We do whatever we have to take care of patients and keep staff safe."
Right now, it requires every person on deck. And each one is asked to think out of the box.
When Taylor learned the hospital's medical staff needed face shields, he took one to some second-shift facilities workers and asked them to come up with a way to make their own. By the end of their shift, the job was done.
Then, OHRH put volunteer services staff members to work making them.
Biomedical technicians — Adam Stangle, Mike Welch, Dan Clark and Kyle Daily — developed the intubation halo. When they needed the base to be smaller and lighter, they consulted with Kentucky Mirror & Plate Glass.
It worked.
"This is an amazing group of people," Taylor said of his co-workers.
He wasn't just talking about the facilities team. Taylor was talking about the entire health system.
Dr. Francis DuFrayne, OH chief medical officer, agreed.
COVID-19 has brought many new talents to light, DuFrayne said, but innovation always has been part of the OH vernacular. They embrace telehealth, online patient scheduling and other new technologies on a daily basis.
"Since I've been here, this has been a very innovative organization," DuFrayne said.
Renee Beasley Jones, 270-228-2835, rbeasleyjones@messenger-inquirer.com
About Owensboro Health
Owensboro Health is a nonprofit health system with a mission to heal the sick and to improve the health of the communities it serves in Kentucky and Indiana. The system includes Owensboro Health Regional Hospital, nationally recognized for design, architecture and engineering; Owensboro Health Muhlenberg Community Hospital; Owensboro Health Twin Lakes Medical Center; the Owensboro Health Medical Group comprised of over 200 providers at more than 20 locations; three outpatient Healthplex facilities, a certified medical fitness facility, the Healthpark; a surgical weight loss center and program, and the Mitchell Memorial Cancer Center.
On average each year, we have 16,000 inpatient admissions, deliver 2,000 babies and provide the region's only Level III NICU. Owensboro Health physicians perform nearly 24,000 surgical procedures, including nearly 200 open-heart surgeries. Our physicians and staff have 70,000 Emergency Department visits, more than a million outpatient visits annually. Visit our home page for more information.