Published on February 27, 2020
The reasons we run
Owensboro Health and Wendell Foster Half Marathon
Last year's Wendell Foster Half Marathon was held on March 23, 2019. It was 13.1 miles and a little chilly and overcast — nearly perfect running weather. Owensboro Health team members showed up for support or to run with almost a thousand others from around the country. Looking in from the outside, it might be difficult to surmise why so many folks would train, travel, get up early and run a distance equivalent to going from Smothers Park to Utica. However, each runner has a reason for this undertaking.
"The reason I run is for mental and physical well-being. I have done two half-marathons in the past and I always wanted to do another one, but this one is special. I have a nonverbal, disabled son who goes to Wendell Foster for physical therapy, and I am so grateful for this facility and their staff." — Loary Bartlett, medical assistant
"The reason why I run is to achieve personal challenges that I set for myself. On my first half, the 13.1 miles was my challenge. With this half, it is the challenge of being part of the stroller division. My running partner in the stroller division is a Wendell Foster resident. This is his first half and my first stroller division half. Our main goal for this half is to finish." — Robin Tucker, Business Systems analyst
"I started volunteering at the Wendell Foster campus when I was 10 years old as the third generation of my family. The campus has been a part of my family's life since the 1950s." — Steve Johnson, vice president of Government and Community Affairs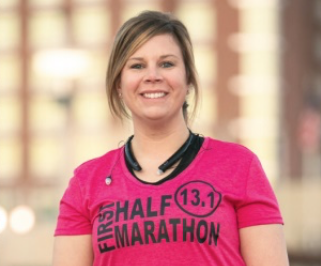 "Prior to coming to Owensboro Health, I worked at Wendell Foster for about seven years. I've volunteered and worked with individuals with special needs since I was 15 years old." — Kerri Booker, APRN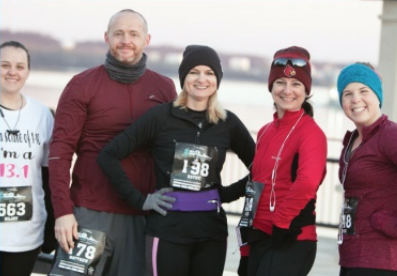 Our Healthpark crew runs for, well…health!
Supporting the teams
Many showed up to support their colleagues and Wendell Foster. Thank you to Wendell Foster for giving Owensboro Health the opportunity to sponsor your inaugural half-marathon!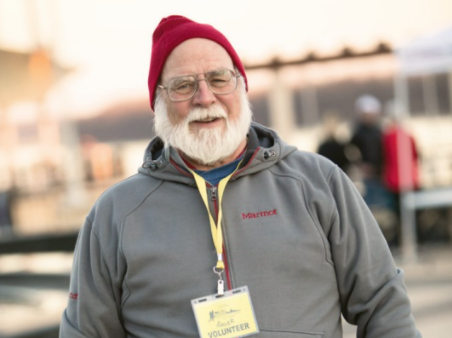 Dr. Roger Humphrey, staying warm as a Wendell Foster half-marathon volunteer.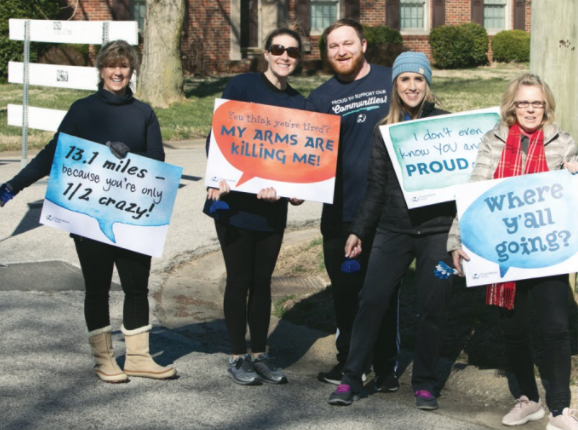 Maybe it's crazy to run 13.1 miles. Maybe it's crazy to show up, stand in the cold and watch other people run 13.1 miles. One thing is clear, though — these volunteers are crazy about Wendell Foster!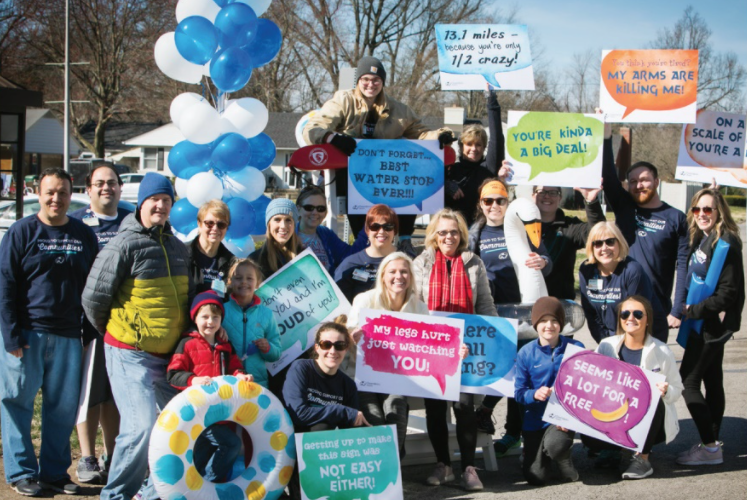 What would any race be without fans? Though family and friends are the real MVPs, our Owensboro Health team at the mile 8 water stop went all out to support the runners from our community.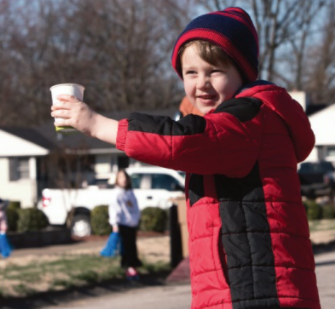 The water was a given, the cute kid was a bonus!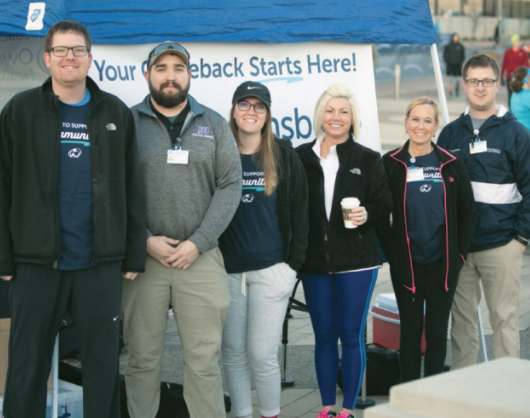 Every good athlete has supporters. Dr. Jody Mitchell and Owensboro Health Medical Group athletic trainers were there to be actual support in case of accident or injury.
About Owensboro Health
Owensboro Health is a nonprofit health system with a mission to heal the sick and to improve the health of the communities it serves in Kentucky and Indiana. The system includes Owensboro Health Regional Hospital, nationally recognized for design, architecture and engineering; Owensboro Health Muhlenberg Community Hospital; Owensboro Health Twin Lakes Medical Center; the Owensboro Health Medical Group comprised of over 200 providers at more than 20 locations; three outpatient Healthplex facilities, a certified medical fitness facility, the Healthpark; a surgical weight loss center and program, and the Mitchell Memorial Cancer Center.
On average each year, we have 16,000 inpatient admissions, deliver 2,000 babies and provide the region's only Level III NICU. Owensboro Health physicians perform nearly 24,000 surgical procedures, including nearly 200 open-heart surgeries. Our physicians and staff have 70,000 Emergency Department visits, more than a million outpatient visits annually. Visit our home page for more information.