Published on April 07, 2021
Congressman Visits Owensboro Health, Promotes Vaccines
By James Mayse, Messenger-Inquirer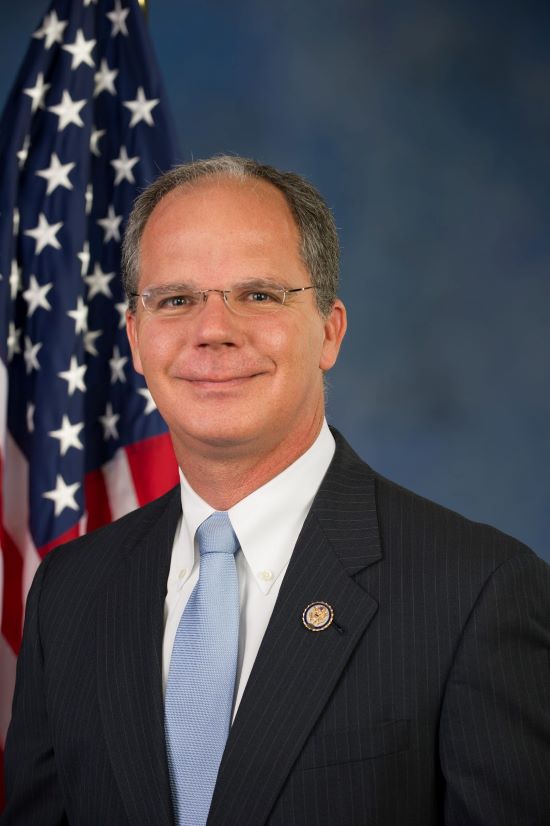 2nd District U.S. Rep. Brett Guthrie urged people Tuesday to get a COVID-19 vaccination, adding that the vaccinations are necessary to reduce future strain on hospitals and return society to a pre-pandemic sense of normalcy.
Guthrie and Owensboro Health officials spoke to the media Tuesday morning after Guthrie toured the hospital's vaccination clinic at the hospital's main campus.
"I've been vaccinated ... To get us back to normal, the vaccine is really going to make a difference," Guthrie said. "What gets us back to normal is when our hospitals aren't being overwhelmed with cases."
Guthrie, a Bowling Green Republican and ranking Republican on the House Energy and Commerce Committee's Health Subcommittee, said the focus in the early days was getting personal protective equipment to hospitals and monitoring whether coronavirus cases were overwhelming health care providers. Later, the focus turned to vaccine development.
People can have confidence in the safety of the vaccines, Guthrie said. The three vaccines currently in use in the U.S. were approved by the Food and Drug Administration after large-scale trials.
"It was government working with private businesses — everybody working together," Guthrie said. "It was rapid, but it did not cut any corners in safety and efficacy," Guthrie said. "We have safe vaccines," he said. "You can call here today and get your vaccine without a waiting list anymore."
The state is now offering the Pfizer vaccine to anyone over 16 years of age.
While the number of COVID-19 cases will likely increase with spring travel, people who are vaccinated won't be seriously affected, Guthrie said.
"We will have cases because it's a communicable disease," he said. "The question is how serious are they going to be? The fact that we vaccinated the most vulnerable, we're not having (people) going into the hospitals" and overwhelming intensive care units, Guthrie said.
The current vaccines are effective against the known COVID variants, Guthrie said, but people who don't get vaccinated will allow the virus to continue to mutate into new variants.
"The three prominent variants that are more contagious, the vaccines are effective on them," Guthrie said. "To paraphrase (Dr. Anthony Fauci) ... all three vaccines are effective against them, 100%, in terms of serious cases and hospitalizations."
Dr. Francis DuFrayne, Owensboro Health's chief medical officer, said there were five people hospitalized with COVID-19 at the hospital on Tuesday. DuFrayne said none of the COVID-19 variants that have caused outbreaks elsewhere have been detected in Owensboro.
DuFrayne said concerns people have had about the vaccines affecting fertility are baseless.
"We already know there are no fertility issues with the vaccine," he said. "There are probably fertility issues if you get the virus, but not (with) the vaccine."
About 60% of hospital employees have been vaccinated, DuFrayne said. To achieve "herd immunity," 75 to 80% of people need to be vaccinated, he said.
County health officials are advocating to get more people vaccinated and the hospital is doing outreach to the Burmese and Hispanic communities to encourage vaccinations and make them more available, he said.
The vaccines are "100% effective against any hospitalizations or deaths," Guthrie said. "I think that's when we get back to normal — when we let hospitals do what hospitals were doing before COVID."
On long-term effectiveness, Guthrie said the test groups that received vaccines in the summer "are still immune" to the virus.
In the future, a goal will be to have stockpiles of personal protective equipment to deal with national medical emergencies like COVID, Guthrie said. Before the pandemic, the national stockpile was only geared toward handling regional disease outbreaks.
"That's a lesson learned, to make sure we have adequate stockpiles for nationwide emergencies, not just regional emergencies," he said.
James Mayse, 270-691-7303, jmayse@messenger-inquirer.com, Twitter: @JamesMayse
Video from the event
About Owensboro Health
Owensboro Health is a nonprofit health system with a mission to heal the sick and to improve the health of the communities it serves in Kentucky and Indiana. The system includes Owensboro Health Regional Hospital, nationally recognized for design, architecture and engineering; Owensboro Health Muhlenberg Community Hospital; Owensboro Health Twin Lakes Medical Center; the Owensboro Health Medical Group comprised of over 200 providers at more than 20 locations; three outpatient Healthplex facilities, a certified medical fitness facility, the Healthpark; a surgical weight loss center and program, and the Mitchell Memorial Cancer Center.
On average each year, we have 16,000 inpatient admissions, deliver 2,000 babies and provide the region's only Level III NICU. Owensboro Health physicians perform nearly 24,000 surgical procedures, including nearly 200 open-heart surgeries. Our physicians and staff have 70,000 Emergency Department visits, more than a million outpatient visits annually. Visit our home page for more information.