Published on March 19, 2021
COVID-19 Nurses Hold COVID-19 Remembrance Ceremony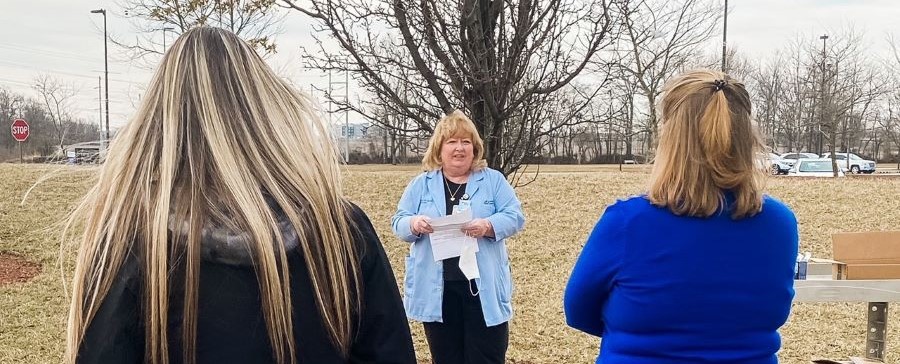 COVID-19 nurses gathered outside Owensboro Health Regional Hospital recently to remember the patients they've treated over the past year.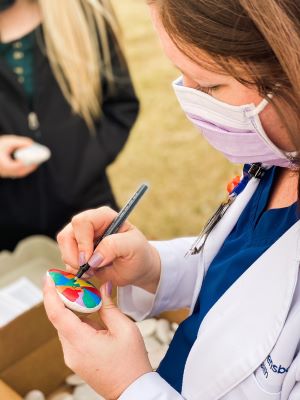 March 19 marks the one-year anniversary of the first COVID-19 positive patient at Owensboro Health. Since then, hundreds of individuals have been hospitalized and 213 have passed away. 
"The care we've given to them is the same in skill but it's been different in meaning," Critical Care Unit nurse Angela Thomas said to the attendees. "We may go from one room to the next, one task to the next, but each person isn't just another patient. We do not forget." 
"We want to remember our survivors and our fighters who lost their battle," she said. "We've gone through a traumatic experience with them." 
In an act of remembrance, the nurses have decorated stones to be placed with a peace lily on the Critical Care Unit. Each stone bears the initials of a patient who succumbed to COVID-19. 
"There are lives we've touched that have also touched us," Thomas said. 
Pastoral Care Chaplain Debby Smith spoke at the ceremony, reminding us that each life lost was more than just a patient - they were loved by many. 
"You have been the light during this heartbreaking time," she told the nurses. "You have been the eyes, the ears, the hands when we could not be there. You have been witness to this event that will forever change us all.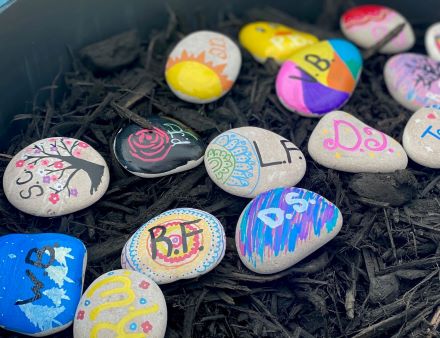 "Your eyes have held the tension between fear and hope. Your ears have heard ventilators and medical equipment ringing. Your hands have held hands and phones as loved ones say their last goodbyes."
Smith assured the healthcare workers that these times of trial will make them not only better doctors and nurses, but better people. 
A second ceremony was held that afternoon for those who could not attend the morning event. Pastoral Care Chaplain Dan Atteberry reiterated the morning program and acknowledged that we must remember the struggles of the past year to allow ourselves to heal. "May you emerge from this ordeal with a new wisdom to cherish simple moments, to imagine new possibilities and to open your heart more to others," he said. 
Both ceremonies were closed with the following prayer of remembrance: 
In the rising of the sun and in its going down, we remember them.
In the blowing of the wind and in the chill of winter, we remember them.
In the opening of buds and in the rebirth of spring, we remember them.
In the blueness of the sky and in the warmth of summer, we remember them.
In the rustling of leaves and in the beauty of autumn, we remember them.
In the beginning of the year and when it ends, we remember them.
When we are weary and in need of strength, we remember them.
So long as we live, they too shall live, for they are now a part of us, as we remember them.
About Owensboro Health
Owensboro Health is a nonprofit health system with a mission to heal the sick and to improve the health of the communities it serves in Kentucky and Indiana. The system includes Owensboro Health Regional Hospital, nationally recognized for design, architecture and engineering; Owensboro Health Muhlenberg Community Hospital; Owensboro Health Twin Lakes Medical Center; the Owensboro Health Medical Group comprised of over 200 providers at more than 20 locations; three outpatient Healthplex facilities, a certified medical fitness facility, the Healthpark; a surgical weight loss center and program, and the Mitchell Memorial Cancer Center.
On average each year, we have 16,000 inpatient admissions, deliver 2,000 babies and provide the region's only Level III NICU. Owensboro Health physicians perform nearly 24,000 surgical procedures, including nearly 200 open-heart surgeries. Our physicians and staff have 70,000 Emergency Department visits, more than a million outpatient visits annually. Visit our home page for more information.