Published on August 26, 2021
COVID-19 Cases Reaching Peak Numbers 

COVID-19 cases are rising sharply, and there is a great deal of media and social media attention on this recent surge. As an Owensboro Health team member, it is important that you have accurate, reliable information and that you understand the full picture at our hospitals. We've turned away many patients from outside of our service area because capacity is not about how many beds we have, it's about how many we can safely staff. 
Daily reports are now sent to all team members in an effort to be transparent about the local state of COVID-19 cases. We have reached - or are nearing - peak numbers of cases in all our hospitals and with this surge, the patient ages are noticeably lower. It's also evident that the majority of positive patients we're seeing are unvaccinated. These reports can be shared with members of our community. We hope by being transparent, more people will see that they need to get vaccinated immediately in order to help end the surge in cases in our hospitals. 
We urge you to get vaccinated and to encourage your loved ones who have not done so to make an appointment as soon as possible. The full approval from the FDA confirms what we were already seeing - that the vaccine is safe and effective. Please continue to wear a mask even if you're vaccinated. Social distance, wash your hands and be safe.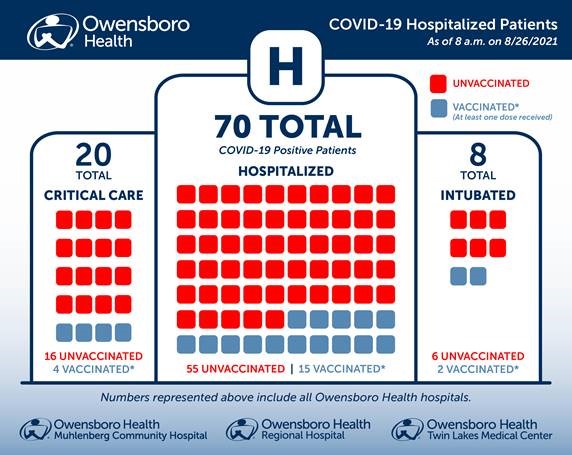 Twin Lakes sees Peak Number of COVID-19 Patients 
Owensboro Health Twin Lakes Medical Center announced its largest number of COVID-19 hospitalizations on Wednesday, as cases continue to surge across the region. OHTLMC reported 18 hospitalized COVID-19 patients—the hospital's highest total since the pandemic began. Six of the cases are in critical care, leaving no critical care beds for other patients.
Hospital officials say improving the region's vaccination rates is vitally important to managing the most recent surge. Of the 18 hospitalizations, 17 are unvaccinated individuals.
Vaccine Rates Rising 
The vaccination rate at Owensboro Health Regional Hospital has risen from an average of 70 vaccines a day to 180-200. This is great news in the fight against COVID-19, as the Delta variant continues to be unrelenting. If you have not been vaccinated, please make an appointment at OwensboroHealth.org/Vaccine.
About Owensboro Health
Owensboro Health is a nonprofit health system with a mission to heal the sick and to improve the health of the communities it serves in Kentucky and Indiana. The system includes Owensboro Health Regional Hospital, nationally recognized for design, architecture and engineering; Owensboro Health Muhlenberg Community Hospital; Owensboro Health Twin Lakes Medical Center; the Owensboro Health Medical Group comprised of over 200 providers at more than 20 locations; three outpatient Healthplex facilities, a certified medical fitness facility, the Healthpark; a surgical weight loss center and program, and the Mitchell Memorial Cancer Center.
On average each year, we have 16,000 inpatient admissions, deliver 2,000 babies and provide the region's only Level III NICU. Owensboro Health physicians perform nearly 24,000 surgical procedures, including nearly 200 open-heart surgeries. Our physicians and staff have 70,000 Emergency Department visits, more than a million outpatient visits annually. Visit our home page for more information.