Published on August 03, 2021
COVID-19 Update: DuFrayne joins local officials in urging vaccinations
In a recent Facebook Live event hosted by Daviess County Fiscal Court, Chief Medical Officer Francis DuFrayne, MD joined with local officials to urge residents to get vaccinated—especially as case numbers surge in western Kentucky. "Coronaviruses are winter viruses, and the fact that we're here at the end of July with this surge, it's really concerning," DuFrayne said. Watch the rest of his comments by visiting the Daviess County Fiscal Court and clicking COVID-19 Community Update under Events.
Physicians share personal stories for upcoming video series
Several physicians and healthcare workers took time last week to share their personal insight about COVID-19 for an upcoming video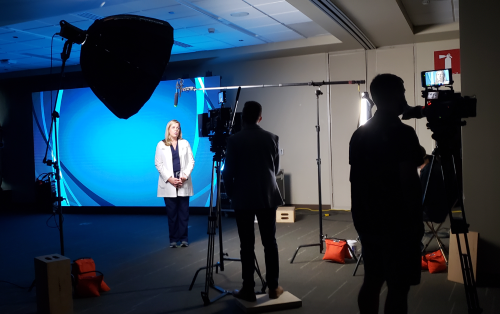 series about the importance of getting vaccinated. Once completed, the videos will air as TV commercials, digital ads and social media videos. In the video clips, participants share experiences from having treated COVID-19 and some of the effects they have seen. The videos will be released soon. 
Vaccine boosters not needed yet
If you are already fully vaccinated, a booster shot is not needed at this time, said Vice President of Medical Affairs Michael Kelley, MD. "Some people have been asking about a third dose of Pfizer or Moderna or a second dose of J&J, but our guidance from the CDC says additional doses are not recommended at this time." Dr. Kelley said communication will be issued if booster recommendations change.
COVID-19 vs seasonal flu: Which is worse?
(From Kentucky Health News)
While influenza and Covid-19 are both contagious respiratory illnesses, they are caused by different viruses. Covid-19 appears to be more contagious and to spread more quickly, and is more deadly. Preliminary estimates from the Centers for Disease Control and Prevention are that the U.S. had 38 million flu cases and 22,000 deaths from it in the 2019-20 flu season, for a death rate of 0.06 percent. The U.S. has had nearly 34 million confirmed cases of the coronavirus and nearly 607,000 deaths from Covid-19, for a death rate of 1.79%. In Kentucky, there have been 473,503 cases and 7,308 deaths—a death rate of 1.54%.
COVID ISOLATION PATIENTS
| | |
| --- | --- |
| HOSPITAL | # OF PATIENTS |
| Owensboro Health Regional Hospital | 25 |
| Owensboro Health Muhlenberg Community Hospital | 2 |
| Owensboro Health Twin Lakes Medical Center | 6 |
| TOTAL | 33 |
About Owensboro Health
Owensboro Health is a nonprofit health system with a mission to heal the sick and to improve the health of the communities it serves in Kentucky and Indiana. The system includes Owensboro Health Regional Hospital, nationally recognized for design, architecture and engineering; Owensboro Health Muhlenberg Community Hospital; Owensboro Health Twin Lakes Medical Center; the Owensboro Health Medical Group comprised of over 200 providers at more than 20 locations; three outpatient Healthplex facilities, a certified medical fitness facility, the Healthpark; a surgical weight loss center and program, and the Mitchell Memorial Cancer Center.
On average each year, we have 16,000 inpatient admissions, deliver 2,000 babies and provide the region's only Level III NICU. Owensboro Health physicians perform nearly 24,000 surgical procedures, including nearly 200 open-heart surgeries. Our physicians and staff have 70,000 Emergency Department visits, more than a million outpatient visits annually. Visit our home page for more information.