Published on September 07, 2021
All Hospitals Reach Peak COVID-19 Inpatients
Over the past two weeks, all three Owensboro Health hospitals reached their highest number of COVID-19 inpatients since the beginning of the pandemic (March 2020). The age range of patients that have been hospitalized continues to skew younger than at the beginning of the pandemic. Eighty-one percent of those hospitalized are unvaccinated. Since vaccines became widely available (April 19, 2021), Owensboro Health Regional Hospital has had 55 deaths that were COVID-19 positive, of which 48 (87%) were unvaccinated. 
Please protect yourself and those around you by social distancing, wearing a mask, washing your hands and getting vaccinated. To schedule a vaccine, call 270-685-7100 (option 6). 
COVID-19 Patient Peaks
| | | |
| --- | --- | --- |
| OH Regional Hospital | September 6      | 59 patients   |
| OH Muhlenberg Community Hospital | September 3       | 8 patients |
| OH Twin Lakes Medical Center  | August 25            | 18 patients |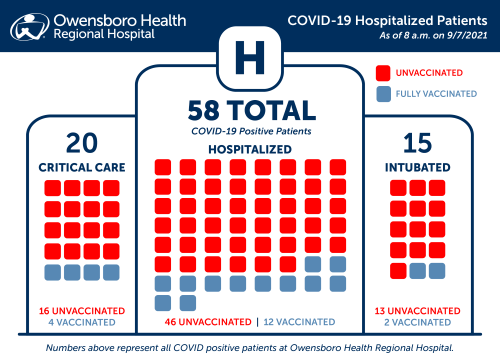 Regeneron Injections Increase Therapy Capacity
Owensboro Health Regional Hospital increased capacity for administering monoclonal antibody treatment (Regeneron) to COVID-19 positive patients last week. At this time, we're able to administer approximately 50 doses per day. To increase the number of patients who can receive this therapy, Regeneron can now be given as a series of subcutaneous injections instead of infusion. This change allows the drug to be administered faster, reducing the treatment time. 
Booster Vaccines For Immunocompromised Only
The Kentucky Department of Public Health has advised all Kentucky Hospitals to provide COVID-19 Vaccine Boosters only to immunocompromised individuals at this time. The State is currently working with Federal leaders and the FDA/CDC on a plan for booster distribution to healthcare workers and the general population. We will share the plan for team member and general population boosters as soon as it becomes available.
About Owensboro Health
Owensboro Health is a nonprofit health system with a mission to heal the sick and to improve the health of the communities it serves in Kentucky and Indiana. The system includes Owensboro Health Regional Hospital, nationally recognized for design, architecture and engineering; Owensboro Health Muhlenberg Community Hospital; Owensboro Health Twin Lakes Medical Center; the Owensboro Health Medical Group comprised of over 200 providers at more than 20 locations; three outpatient Healthplex facilities, a certified medical fitness facility, the Healthpark; a surgical weight loss center and program, and the Mitchell Memorial Cancer Center.
On average each year, we have 16,000 inpatient admissions, deliver 2,000 babies and provide the region's only Level III NICU. Owensboro Health physicians perform nearly 24,000 surgical procedures, including nearly 200 open-heart surgeries. Our physicians and staff have 70,000 Emergency Department visits, more than a million outpatient visits annually. Visit our home page for more information.