Published on November 04, 2021
COVID-19 Update: Pediatric COVID-19 Vaccines Coming Soon
Pediatric COVID-19 Vaccines Coming Soon
Following the U.S. Centers for Disease Control and Prevention announcement Tuesday evening that it would recommend pediatric COVID-19 vaccines for children ages 5 to 11, Owensboro Health expects to begin administering doses within the next several weeks.
Owensboro Health Children's Center pediatrician Dr. Rebekah Booth said that the pediatric dose is about one-third of the normal adult dose. This may make many parents more comfortable with getting children vaccinated since there is less likelihood of children developing an intense immune reaction to the vaccine that could result in conditions such as myocarditis.
OH director for Outpatient Pharmacy BC Childress said that the preventable hospitalizations and fatalities related to COVID-19 in children are greater than any vaccine's adverse effects, such as myocarditis. No cases of myocarditis or pericarditis were reported in the clinical trial for children ages 5–11 years (over 3,000 patients). Furthermore, the risk myocarditis or pericarditis after receipt of a COVID-19 vaccine is lower than the risk of myocarditis associated with COVID infection in adolescents and adults. When voting on the approval, many CDC committee members noted that their decision was influenced by the fact that there have been zero deaths linked to myocarditis from the COVID-19 Vaccine. The benefits of vaccination in this population heavily outweigh the risks.  
 
Pediatric COVID-19 vaccines for ages 5 to 11 will be administered at Owensboro Health Regional Hospital starting around November 15. Watch OwensboroHealth.org and social media for updates on availability.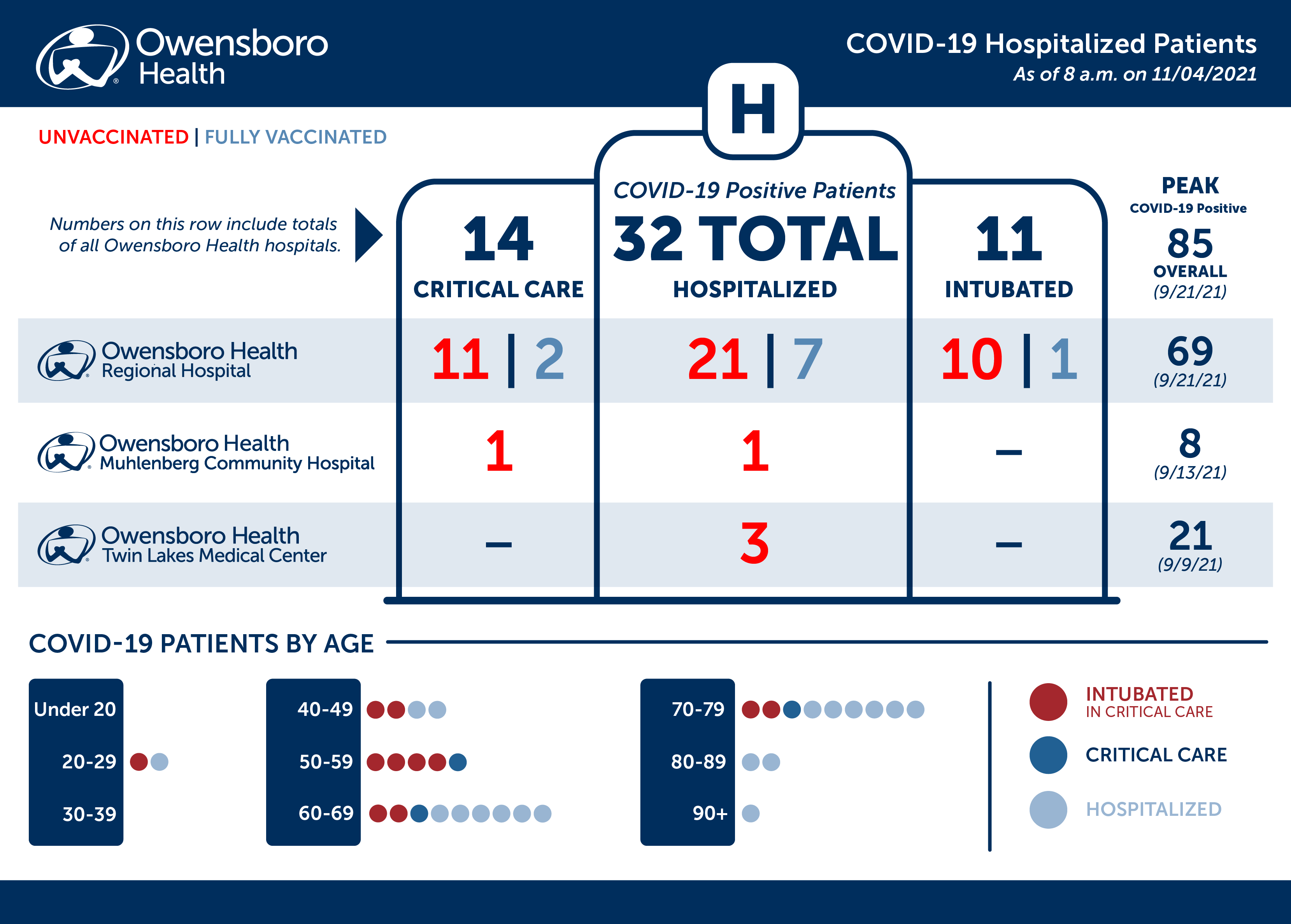 About Owensboro Health
Owensboro Health is a nonprofit health system with a mission to heal the sick and to improve the health of the communities it serves in Kentucky and Indiana. The system includes Owensboro Health Regional Hospital, nationally recognized for design, architecture and engineering; Owensboro Health Muhlenberg Community Hospital; Owensboro Health Twin Lakes Medical Center; the Owensboro Health Medical Group comprised of over 200 providers at more than 20 locations; three outpatient Healthplex facilities, a certified medical fitness facility, the Healthpark; a surgical weight loss center and program, and the Mitchell Memorial Cancer Center.
On average each year, we have 16,000 inpatient admissions, deliver 2,000 babies and provide the region's only Level III NICU. Owensboro Health physicians perform nearly 24,000 surgical procedures, including nearly 200 open-heart surgeries. Our physicians and staff have 70,000 Emergency Department visits, more than a million outpatient visits annually. Visit our home page for more information.