Published on December 06, 2021
COVID-19 Update: Preparing For Next Wave
Preparing For Rising Numbers
The number of hospitalized COVID-19-positive patients has increased in recent days, after being in decline for the past few weeks. Owensboro Health is preparing for another wave of the pandemic and making room inside the hospital for a surge of cases, should it be needed. As we spend more time near others this season - at Christmas parties or holiday shopping - please continue to be cautious. Getting vaccinated is your best defense against severe illness or death from COVID-19, and you can make an appointment today at OwensboroHealth.org/Vaccine. This graphic illustrates the number of patients in Owensboro Health hospitals as of 8 a.m. today that tested positive for COVID-19.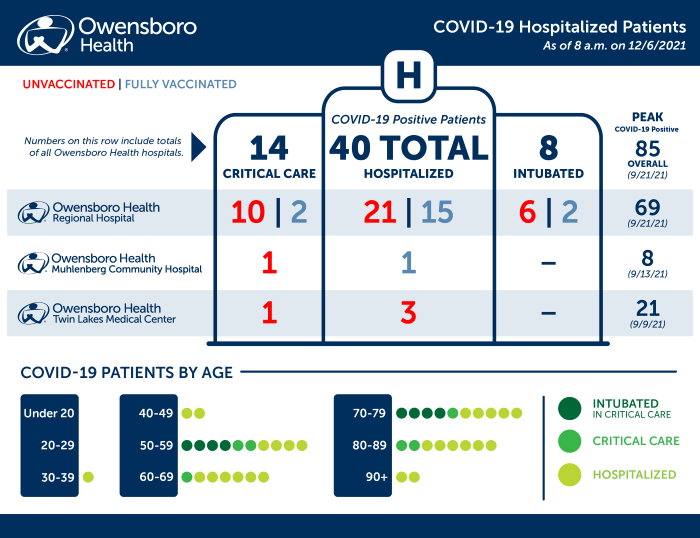 About Owensboro Health
Owensboro Health is a nonprofit health system with a mission to heal the sick and to improve the health of the communities it serves in Kentucky and Indiana. The system includes Owensboro Health Regional Hospital, nationally recognized for design, architecture and engineering; Owensboro Health Muhlenberg Community Hospital; Owensboro Health Twin Lakes Medical Center; the Owensboro Health Medical Group comprised of over 200 providers at more than 20 locations; three outpatient Healthplex facilities, a certified medical fitness facility, the Healthpark; a surgical weight loss center and program, and the Mitchell Memorial Cancer Center.
On average each year, we have 16,000 inpatient admissions, deliver 2,000 babies and provide the region's only Level III NICU. Owensboro Health physicians perform nearly 24,000 surgical procedures, including nearly 200 open-heart surgeries. Our physicians and staff have 70,000 Emergency Department visits, more than a million outpatient visits annually. Visit our home page for more information.