Published on April 26, 2021
Drug Take Back Day is April 24
Owensboro Health is proud to participate in the Drug Enforcement Administration's 20th Take Back Day on April 24. This annual event is a focused effort to dispose of unused prescription medication properly and prevent drug abuse.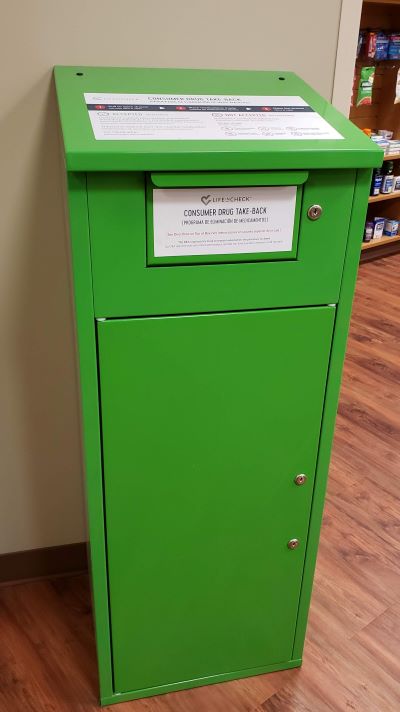 With studies indicating that most abused prescription drugs come from family and friends, including from home medicine cabinets, clearing out unused medicine is essential.
"Unused or expired prescription medications often lead to accidental poisoning, overdose, and abuse," BC Childress, Owensboro Health Director of Outpatient Pharmacy Services, said. "These pharmaceutical drugs can be just as dangerous and addictive as street drugs when taken without a doctor's supervision." 
According to the Centers for Disease Control and Prevention, the U.S. has seen an increase in overdose deaths during the COVID-19 pandemic. In the last 12 months,  83,544 Americans have overdosed - the most ever recorded in 12 months. The rise in drug overdose deaths appeared to begin before COVID-19 but grew significantly during the first months of the pandemic.
"Too often, substance abuse begins with prescription medications that are left unattended or disposed of inappropriately," said Childress. "To prevent drugs from falling into the wrong hands, it's more important than ever to dispose of unused pills safely and smartly." 
To participate in the national event, bring your unused medication to the Owensboro Health Regional Hospital Outpatient Pharmacy on April 24, between 10 a.m. and 2 p.m. If you are unable to come at that time, there are other convenient options for you. 
Because substance abuse is a top priority of Owensboro Health's community health strategy, Owensboro Health Regional Hospital Outpatient Pharmacy has a permanent on-site drug disposal solution available to the public. The drug take-back bin is located inside the Outpatient Pharmacy and is open to the public from 7 a.m. to 7 p.m.,  Monday through Friday, and 9 a.m. to 5 p.m. on weekends. 
The Owensboro Police Department and the Daviess County Sheriff's Department also offer collection year-round.
About Owensboro Health
Owensboro Health is a nonprofit health system with a mission to heal the sick and to improve the health of the communities it serves in Kentucky and Indiana. The system includes Owensboro Health Regional Hospital, nationally recognized for design, architecture and engineering; Owensboro Health Muhlenberg Community Hospital; Owensboro Health Twin Lakes Medical Center; the Owensboro Health Medical Group comprised of over 200 providers at more than 20 locations; three outpatient Healthplex facilities, a certified medical fitness facility, the Healthpark; a surgical weight loss center and program, and the Mitchell Memorial Cancer Center.
On average each year, we have 16,000 inpatient admissions, deliver 2,000 babies and provide the region's only Level III NICU. Owensboro Health physicians perform nearly 24,000 surgical procedures, including nearly 200 open-heart surgeries. Our physicians and staff have 70,000 Emergency Department visits, more than a million outpatient visits annually. Visit our home page for more information.