Published on April 05, 2021
McConnell to Discuss Federal COVID-19 Relief, Vaccination Distribution in Owensboro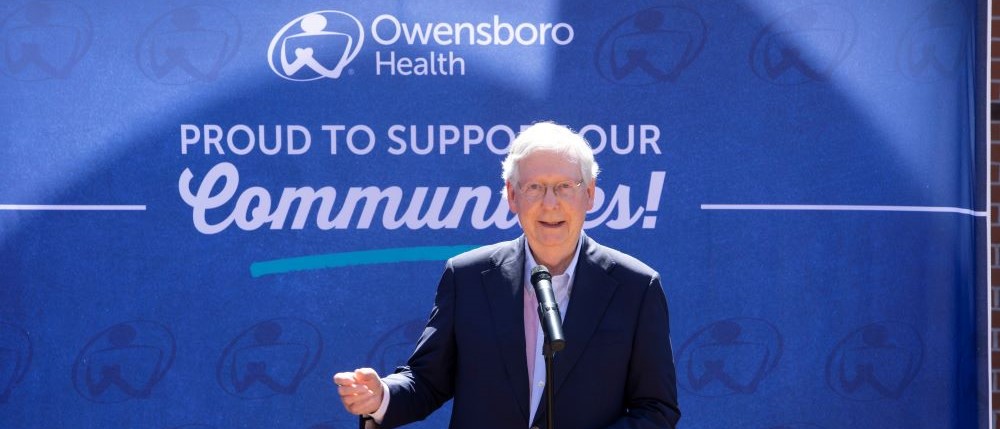 WASHINGTON, D.C. — U.S. Senate Republican Leader Mitch McConnell (R-KY) will visit Owensboro Health Regional Hospital on Thursday, April 1 to discuss Kentucky's vaccine distribution efforts and the multiple historic and bipartisan COVID-19 relief bills passed last year that are now law.
Last year, Senator McConnell led the Senate to pass five bipartisan rescue packages allocating almost $48 billion for the development of vaccines and treatments through Operation Warp Speed.
The targeted relief bill Senator McConnell negotiated last December devoted $8.75 billion specifically to distribute vaccinations. In January alone, Kentucky received almost $87 million in federal funding to help the state administer vaccine shots.
Since last May, Senator McConnell has visited more than 30 Kentucky healthcare facilities to personally thank healthcare heroes and discuss the $13 billion impact the Coronavirus Aid, Relief, and Economic Security (CARES) Act is making on Kentucky.
Join our Facebook Live coverage of his remarks on the Owensboro Health Facebook page.
About Owensboro Health
Owensboro Health is a nonprofit health system with a mission to heal the sick and to improve the health of the communities it serves in Kentucky and Indiana. The system includes Owensboro Health Regional Hospital, nationally recognized for design, architecture and engineering; Owensboro Health Muhlenberg Community Hospital; Owensboro Health Twin Lakes Medical Center; the Owensboro Health Medical Group comprised of over 200 providers at more than 20 locations; three outpatient Healthplex facilities, a certified medical fitness facility, the Healthpark; a surgical weight loss center and program, and the Mitchell Memorial Cancer Center.
On average each year, we have 16,000 inpatient admissions, deliver 2,000 babies and provide the region's only Level III NICU. Owensboro Health physicians perform nearly 24,000 surgical procedures, including nearly 200 open-heart surgeries. Our physicians and staff have 70,000 Emergency Department visits, more than a million outpatient visits annually. Visit our home page for more information.