Published on December 02, 2021
OHRH Launches TAVR Program For Heart Valve Replacement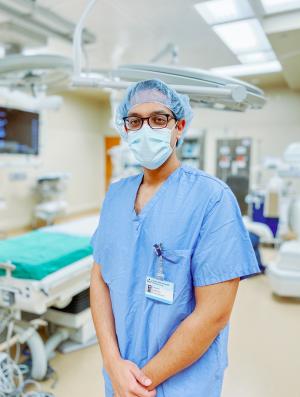 OWENSBORO, Ky. (Dec. 2, 2021) Owensboro Health Regional Hospital recently began performing transcatheter aortic valve replacement (TAVR) procedures, successfully treating patients suffering from aortic stenosis. The procedure is performed by interventional/structural cardiologist Ashish Rastogi, MD and the Owensboro Health heart services team.
"TAVR represents the beginning of a structural heart program that will bring new treatment options to Western Kentucky and Southern Indiana," said Chief Medical Officer Francis DuFrayne, MD. "This procedure truly elevates the level of heart care that is available to our patients right here in Owensboro."
To perform a TAVR procedure, the heart team places an artificial valve directly into the blocked aortic valve using a catheter inserted through the leg. The incision required is one centimeter, and patients go home the next day, Dr. Rastogi said. He added that TAVR's minimally invasive approach makes it a good option for older patients who may not be candidates for traditional open-heart surgery, which is more invasive and requires significantly greater recovery time.
Studies show that 1 in 8 people over age 75 could have some form of aortic stenosis--a disease that narrows the aortic valve opening and restricts blood flow from the heart's left ventricle. Symptoms may include fatigue, chest pain, heart flutters, dizziness and shortness of breath. Many people accept these conditions as normal aging and do not realize they have a treatable disease, Dr. Rastogi said.
"TAVR patients often experience an immediate improvement in their quality-of-life," he said. "For many, the procedure increases their life expectancy and helps them feel better right away."
TAVR is the latest in a series of innovations within Owensboro Health's heart program during the past year. In addition to recruiting an interventional/structural cardiologist (Rastogi), OHRH has also expanded its cardiac imaging and electrophysiology capabilities, renovated the catheterization lab and partnered with Cincinnati Children's to provide pediatric cardiology services.  As a part of a comprehensive structural heart program Dr. Rastogi also performs procedures such as PFO/ASD closure, Watchman Device implantation for atrial fibrillation, and MitraClip for mitral valve regurgitation.
Contact: Somer Wilhite, Manager of Marketing - Communications, 270-685-7103 or Somer.Wilhite@OwensboroHealth.org.
# # #
About Owensboro Health
Owensboro Health is a nonprofit health system with a mission to heal the sick and to improve the health of the communities it serves in Kentucky and Indiana. The system includes Owensboro Health Regional Hospital, nationally recognized for design, architecture and engineering; Owensboro Health Muhlenberg Community Hospital; Owensboro Health Twin Lakes Medical Center; the Owensboro Health Medical Group comprised of over 200 providers at more than 20 locations; three outpatient Healthplex facilities, a certified medical fitness facility, the Healthpark; a surgical weight loss center and program, and the Mitchell Memorial Cancer Center.
On average each year, we have 16,000 inpatient admissions, deliver 2,000 babies and provide the region's only Level III NICU. Owensboro Health physicians perform nearly 24,000 surgical procedures, including nearly 200 open-heart surgeries. Our physicians and staff have 70,000 Emergency Department visits, more than a million outpatient visits annually. Visit our home page for more information.