Published on September 13, 2021
Owensboro Health Collaborates with Cincinnati Children's to Offer Nationally Ranked Heart Care in Owensboro
OWENSBORO, Ky. (August 26, 2021) – Owensboro Health is proud to collaborate with the cardiology experts of Cincinnati Children's and Kentucky Children's Hospital to bring the most advanced congenital heart care closer to you as part of the Joint Heart Program. 
Three cardiologists from The Joint Heart Program are now accepting referrals for diagnosis and treatment of a full range of heart conditions for children, teens and adults born with heart defects. These patients will be seen at the Owensboro Health Pleasant Valley Medical Office Building (attached to Owensboro Health Regional Hospital) on Wednesdays, saving local patients countless hours of travel time. 
Services offered include new patient and follow-up appointments, syncope evaluation and management, pediatric preventive cardiology, adult congenital heart care and cardiac care for pregnant women. The site will also offer in-office testing such as EKGs, echocardiograms, 24-hour Holter and 14-day event monitors and 24-hour ambulatory blood pressure monitors. 
"Owensboro Health is proud to bring world-renowned heart care to children and adults in our community," said Dr. Francis DuFrayne, Chief Medical Officer. "Our work with Cincinnati Children's will be another strong partnership, similar to what we have with UK HealthCare and UofL Health, all of which elevate the level of care available locally."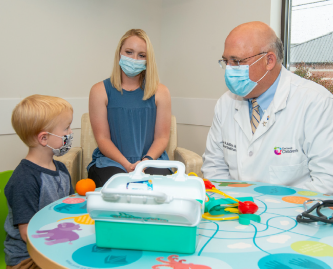 "Cincinnati Children's is committed to expanding services to the communities that request our care," said Dr. Keller, medical director of Cincinnati Children's Greater Louisville and Western Kentucky heart practice. "We're excited to bring pediatric and adult congenital heart care to Owensboro and the surrounding communities, in collaboration with Kentucky Children's Hospital and Owensboro Health, so that patients and families can access world-class care closer to home."
Participating Cardiologists:
Dr. Bradley Keller: Specializes in pediatric and adult congenital heart disease
Dr. Craig Alexander: Specializes in pediatric and adult congenital heart disease, pregnancy complicated by heart disease.
Dr. Shaun Mohan: Specializes in pediatric cardiology and pediatric electrophysiology.
Visit the Congenital Heart Care page.
Contact: Somer Wilhite, Manager of Marketing - Communications, 270-685-7103 or Somer.Wilhite@OwensboroHealth.org.
# # #
Started in 2017, the Joint Heart Program is a collaboration between Cincinnati Children's and Kentucky Children's Hospital, providing world-class heart care closer to home. The program is ranked by U.S. News & World Report as one of the nation's top programs for pediatric cardiology and heart surgery. Joint Heart Program providers now offer pediatric and adult congenital heart care at more than 18 locations throughout Kentucky.
About Owensboro Health
Owensboro Health is a nonprofit health system with a mission to heal the sick and to improve the health of the communities it serves in Kentucky and Indiana. The system includes Owensboro Health Regional Hospital, nationally recognized for design, architecture and engineering; Owensboro Health Muhlenberg Community Hospital; Owensboro Health Twin Lakes Medical Center; the Owensboro Health Medical Group comprised of over 200 providers at more than 20 locations; three outpatient Healthplex facilities, a certified medical fitness facility, the Healthpark; a surgical weight loss center and program, and the Mitchell Memorial Cancer Center.
On average each year, we have 16,000 inpatient admissions, deliver 2,000 babies and provide the region's only Level III NICU. Owensboro Health physicians perform nearly 24,000 surgical procedures, including nearly 200 open-heart surgeries. Our physicians and staff have 70,000 Emergency Department visits, more than a million outpatient visits annually. Visit our home page for more information.