Published on February 04, 2021
Owensboro Health Helps WKRBC Purchase Bloodmobile
Owensboro Health is proud to donate $100,000 to the Western Kentucky Regional Blood Center toward the purchase of a second bloodmobile. 
The total cost for the bloodmobile is $368,389. In addition to the donation from Owensboro Health, the purchase will be funded by a grant from Impact 100, donations from Wal-Mart Giving, the Fraternal Order of Eagles 4168 and an additional $20,000 from raffles held by WKRBC.
This additional, modern bloodmobile will allow WKRBC to expand its mobile donation abilities and provide a safe and reliable way for individuals to donate blood. Owensboro Health is a signature financial partner in this project - a natural partnership since it will help WKRBC fulfill the blood supply needs for Owensboro Health Regional Hospital and eight other medical facilities in western Kentucky.  
Owensboro Health is the main recipient of the WKRBC blood supply, using more than 6,000 units of red blood cells, plasma and platelets in 2020.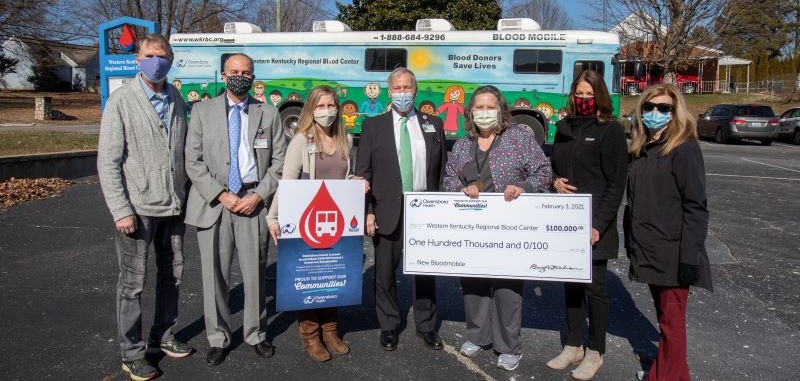 Currently, 55% of WKRBC blood donations are collected via blood drives held on the existing bloodmobile. A second vehicle propels donations toward a potential 7,000 additional donors each year, and a one-time donation can save as many as three lives. The new bloodmobile is expected to serve WKRBC and this community for as long as 15 years to come.
Owensboro Health team members participate in these blood drives, held four times a year at four locations, for a combined 16 donation opportunities. In 2019 and 2020, OH team members donated an average of 460 units each year. Those donations are life-saving treatment for everyone from NICU babies to trauma and cancer patients. 
We would like to thank all of our community partners for their support as we work together to improve the health of our community.
About Owensboro Health
Owensboro Health is a nonprofit health system with a mission to heal the sick and to improve the health of the communities it serves in Kentucky and Indiana. The system includes Owensboro Health Regional Hospital, nationally recognized for design, architecture and engineering; Owensboro Health Muhlenberg Community Hospital; Owensboro Health Twin Lakes Medical Center; the Owensboro Health Medical Group comprised of over 200 providers at more than 20 locations; three outpatient Healthplex facilities, a certified medical fitness facility, the Healthpark; a surgical weight loss center and program, and the Mitchell Memorial Cancer Center.
On average each year, we have 16,000 inpatient admissions, deliver 2,000 babies and provide the region's only Level III NICU. Owensboro Health physicians perform nearly 24,000 surgical procedures, including nearly 200 open-heart surgeries. Our physicians and staff have 70,000 Emergency Department visits, more than a million outpatient visits annually. Visit our home page for more information.