Published on April 13, 2021
Owensboro Health opens COVID-19 vaccinations to 60-69 age range
*See the latest vaccine age requirements and appointment availability.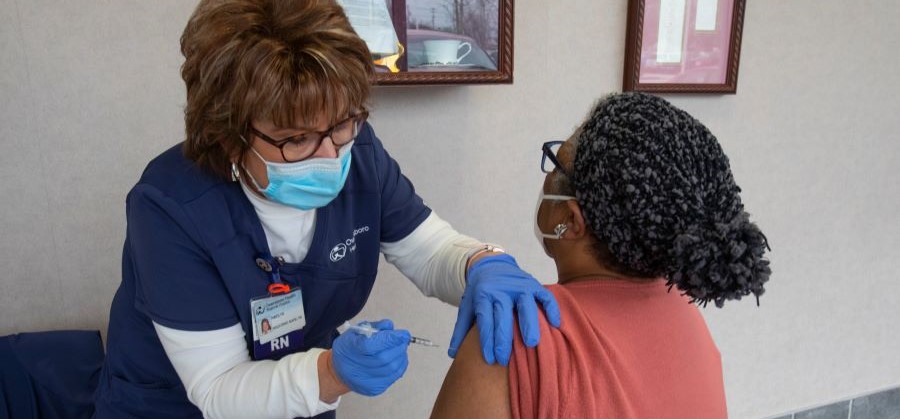 OWENSBORO, Ky (Feb. 18, 2021) – Owensboro Health has opened its COVID-19 vaccination schedule to individuals age 60-69. People in this age category can now schedule an appointment at an OH vaccination clinic through the system's website or by calling the hospital's appointment line, 270-685-7100, option 6.
Since Dec. 24, OHRH has administered over 16,000 first doses and 9,000 second doses of the Moderna and Pfizer vaccines to people in Kentucky's 1A and 1B tiers: healthcare workers, first responders and individuals 70+. With today's announcement, those between the ages of 60 and 69 are also eligible to be vaccinated at OH.
"Vaccines represent our greatest opportunity to reduce the spread of COVID-19, so every dose increases hope for a brighter future," said Michael Kelley, MD, vice president of medical affairs. "By expanding the age range for vaccine eligibility, Owensboro Health is taking another step to immunize our communities and help them stand strong against COVID-19."
Throughout the vaccination process, Owensboro Health has used guidance from the Kentucky Department of Public Health to prioritize vaccine appointments, Kelley said. The 60-69 demographic is part of the next group on Kentucky's vaccination plan and one that represents the highest risk of mortality, he added, and immunizing them will make a significant difference in saving lives and slowing the spread of the virus. Over 45,000 individuals will now be eligible for vaccination within Owensboro Health's service area.
Currently, the following groups are eligible for a vaccine at OHRH:
Healthcare workers
First responders
Individuals age 70+
Individuals age 60-69
Owensboro Health Muhlenberg Community Hospital has also begun vaccinating the 60-69 category and is working with its local health department to schedule those appointments. Owensboro Health Twin Lakes Medical Center is currently vaccinating 70+ individuals from the Grayson County Health Department's waiting list but intends to expand eligibility soon.
COVID-19 Response Infographic
A by-the-numbers look at Owensboro Health's COVID-19 response
16k+ first-dose vaccines administered. Plus 9,000+ second doses given. Visit OwensboroHealth.org/Vaccine to find out if you are eligible to schedule a vaccine appointment.
Zero doses wasted. Thanks for systematic scheduling and the dedication of our clinic workers.
25,000+ total vaccines administered.
670+ antibody infusions. Bamlanivimab and Regeneron doses given to COVID-19 patients with mild to moderate cases to prevent hospitalization. Talk to your provider to see you are eligible for an antibody treatment.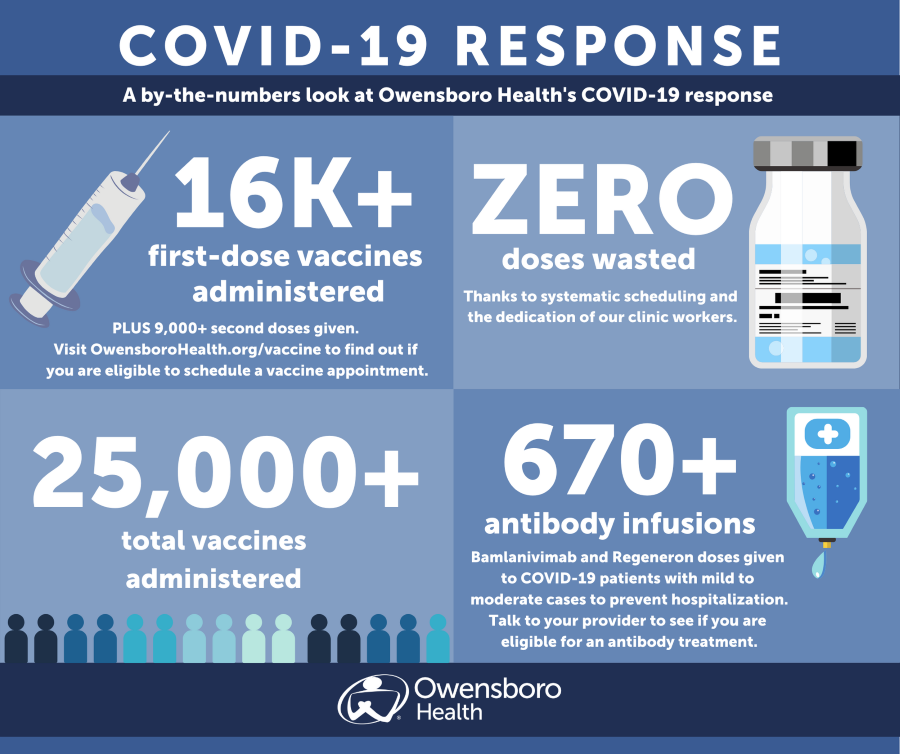 Contact: Brian Hamby, Owensboro Health Marketing & Public Relations, (O) 270-685-7749, (C) 270-316-4274, Brian.Hamby@OwensboroHealth.org.
About Owensboro Health
Owensboro Health is a nonprofit health system with a mission to heal the sick and to improve the health of the communities it serves in Kentucky and Indiana. The system includes Owensboro Health Regional Hospital, nationally recognized for design, architecture and engineering; Owensboro Health Muhlenberg Community Hospital; Owensboro Health Twin Lakes Medical Center; the Owensboro Health Medical Group comprised of over 200 providers at more than 20 locations; three outpatient Healthplex facilities, a certified medical fitness facility, the Healthpark; a surgical weight loss center and program, and the Mitchell Memorial Cancer Center.
On average each year, we have 16,000 inpatient admissions, deliver 2,000 babies and provide the region's only Level III NICU. Owensboro Health physicians perform nearly 24,000 surgical procedures, including nearly 200 open-heart surgeries. Our physicians and staff have 70,000 Emergency Department visits, more than a million outpatient visits annually. Visit our home page for more information.