Published on October 06, 2021
Owensboro Health Programs Nationally Recognized
Two programs at Owensboro Health Regional Hospital have recently been recognized by national agencies. These awards demonstrate Owensboro Health's commitment to healing the sick and improving the health of our community.
OHRH Stroke Program Recognized by American Heart Association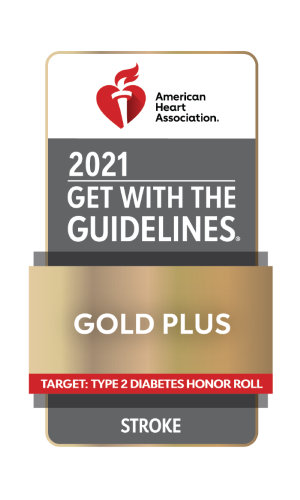 Owensboro Health Regional Hospital has received the American Heart Association's GoldPlus Get
With The Guidelines® - Stroke Quality Achievement Award for their commitment to ensuring stroke patients receive the most appropriate treatment according to nationally recognized guidelines.
Stroke is the No. 5 cause of death and a leading cause of adult disability in the U.S. On average, someone in the U.S. suffers a stroke every 40 seconds, and nearly 795,000 people suffer a new or recurrent stroke each year. Early stroke detection and treatment are key to improving survival, minimizing disability and speeding recovery times.
Get With The Guidelines - Stroke was developed to assist healthcare professionals to provide the most up-to-date, research-based guidelines for treating stroke patients.
"The guidelines for receiving this award are very stringent," said OHRH Director of Nursing, Cathy Stewart, MSN, RN. "Get with the Guidelines-Stroke makes it easier for our teams to put proven knowledge and guidelines to work on a daily basis to improve outcomes for stroke patients.  I am so proud of the stroke program at OHRH and the work that Dr. Bilal, Tabitha Drane, MSN, RN, Clinical Program Specialist and the entire interdisciplinary stroke team have put into receiving this quality award."
Each year program participants apply for the award recognition by demonstrating how their organization has committed to providing quality care for stroke patients. In addition to following treatment guidelines, participants also provide education to patients to help them manage their health and rehabilitation once at home.
Additionally, Owensboro Health Regional Hospital received the Association's Target: Type 2 Honor Roll award. To qualify for this recognition, hospitals must meet quality measures developed with more than 90% of compliance for 12 consecutive months for the "Overall Diabetes Cardiovascular Initiative Composite Score."
Learn more about stroke care at OwensboroHealth.org/Stroke.
Owensboro Health Recognized For Excellence in Lactation Care
The lactation team at Owensboro Health Regional Hospital has received the IBCLC Care Award in recognition of staffing professionals who hold the prestigious International Board Certified Lactation Consultant® (IBCLC®) certification and providing a lactation program for breastfeeding families. In addition, the facility demonstrated that it has recently completed activities that help protect, promote and support breastfeeding.
IBCLCs focus on preventive care, so they are available during pregnancy to assess and provide information on how to successfully initiate breastfeeding. They continue that assistance after the baby is born by helping families overcome breastfeeding challenges, providing accurate information, and continuing to support them as their baby grows. They assist families returning to work or school, help families in more unusual situations such as breastfeeding more than one baby or nursing a sick or premature infant and help train nursing staff to manage basic breastfeeding care.
For more information about the lactation team at OHRH, visit OwensboroHealth.org/Breastfeeding
About Owensboro Health
Owensboro Health is a nonprofit health system with a mission to heal the sick and to improve the health of the communities it serves in Kentucky and Indiana. The system includes Owensboro Health Regional Hospital, nationally recognized for design, architecture and engineering; Owensboro Health Muhlenberg Community Hospital; Owensboro Health Twin Lakes Medical Center; the Owensboro Health Medical Group comprised of over 200 providers at more than 20 locations; three outpatient Healthplex facilities, a certified medical fitness facility, the Healthpark; a surgical weight loss center and program, and the Mitchell Memorial Cancer Center.
On average each year, we have 16,000 inpatient admissions, deliver 2,000 babies and provide the region's only Level III NICU. Owensboro Health physicians perform nearly 24,000 surgical procedures, including nearly 200 open-heart surgeries. Our physicians and staff have 70,000 Emergency Department visits, more than a million outpatient visits annually. Visit our home page for more information.