Published on November 22, 2021
Owensboro Health Regional Hospital names new Chief Operating Officer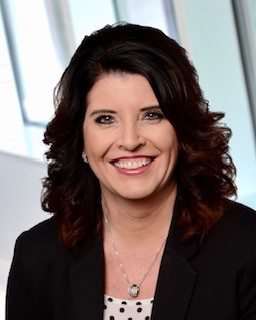 Beth Steele has been named chief operating officer of Owensboro Health Regional Hospital. Steele is currently the vice-president of operations and the chief nursing officer for Grant Medical Center in Columbus, Ohio—part of the OhioHealth system. She is scheduled to begin her new role at Owensboro Health on Jan. 10.
Steele has held executive positions at OhioHealth since 2014 and has extensive experience with daily hospital operations, including nursing, emergency departments, surgical services, oncology, respiratory and rehabilitation. She has also been the hospital's lead executive throughout the COVID-19 pandemic, achieving financial stability and avoiding layoffs despite projections of potential losses and the suspension of elective surgeries. Her tenure has also featured award-winning construction projects in surgical services and within the neurosciences tower at Riverside Methodist Hospital along with aligning the system care management team in population health. Prior to OhioHealth, Steele worked for 16 years with Premier Health, based in Dayton, Ohio.
"Beth has impressive credentials and experience from some of Ohio's top healthcare systems, and she is an outstanding addition to Owensboro Health," said Mark Marsh, president and chief executive officer of Owensboro Health. "She is also an energetic, team-oriented leader who will help build a great culture for our leaders and team members."
At Owensboro Health, Steele will direct the daily operations of Owensboro Health Regional Hospital—the system's flagship, 477-bed hospital opened in 2013. Her responsibilities will include quality and patient safety, clinical operations, patient experience, financial performance and service line development. The hospital currently operates a Level III trauma center, a maternity services unit with a Level III NICU, a structural heart program and the Regional Rehabilitation Center, among other services.
"I am excited to be part of a growing health system that has so much potential to impact healthcare in western Kentucky and southern Indiana," Steele said. "The facilities are amazing, but it all starts with our team members who deliver high-quality care to our patients every day. I look forward to meeting the team and learning how I can help them be successful."
About Owensboro Health
Owensboro Health is a nonprofit health system with a mission to heal the sick and to improve the health of the communities it serves in Kentucky and Indiana. The system includes Owensboro Health Regional Hospital, nationally recognized for design, architecture and engineering; Owensboro Health Muhlenberg Community Hospital; Owensboro Health Twin Lakes Medical Center; the Owensboro Health Medical Group comprised of over 200 providers at more than 20 locations; three outpatient Healthplex facilities, a certified medical fitness facility, the Healthpark; a surgical weight loss center and program, and the Mitchell Memorial Cancer Center.
On average each year, we have 16,000 inpatient admissions, deliver 2,000 babies and provide the region's only Level III NICU. Owensboro Health physicians perform nearly 24,000 surgical procedures, including nearly 200 open-heart surgeries. Our physicians and staff have 70,000 Emergency Department visits, more than a million outpatient visits annually. Visit our home page for more information.