Published on July 27, 2021
The truth about vaccination: It works
--Michael Kelley, MD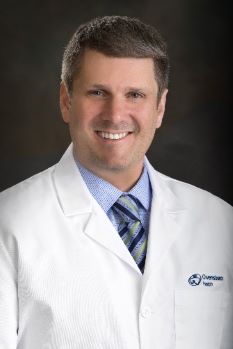 The latest numbers from both the CDC and Owensboro Health clearly indicate the importance of getting vaccinated to protect yourself and those around you. Here are the facts.
Unvaccinated individuals account for:
97% of US COVID-19 hospitalizations and deaths. (CDC)
87.5% of COVID-19 hospitalizations at Owensboro Health (since April 19)
32 out of 35 COVID-19 critical care admissions at Owensboro Health (since April 19)
16 of the 18 COVID-19 intubations at OHRH (since April 19)
All 17 deaths from COVID-19 at OHRH (since April 19)
It is not too late to get vaccinated. Even if you have been skeptical in the past, it is okay to change your mind and make a new decision. As someone who closely studies the numbers every day, I truly hope you will examine the evidence and choose to get vaccinated—for your own health and for those you live and work with.
Dr. DuFrayne to take part in livestream event on July 27
Chief Medical Officer Francis DuFrayne, MD, will be a panelist in an upcoming Facebook Live event on Tuesday, July 27 at 12:30 p.m. Dr. DuFrayne will address issues relating to COVID-19 along with Daviess County Judge-Executive Al Mattingly, Owensboro Mayor Tom Watson, and Green River District Health Department Director Clay Horton. The livestream can be accessed on Daviess County Fiscal Court's Facebook page.
Wound Center celebration postponed indefinitely
Due to the escalating COVID-19 case numbers in the area, Owensboro Health Wound Center has postponed its 20th anniversary celebration, originally scheduled for July 28. The Wound Center plans to reschedule the event at a later date.
COVID ISOLATION PATIENTS
| | |
| --- | --- |
| HOSPITAL | # OF PATIENTS |
| Owensboro Health Regional Hospital | 18 |
| Owensboro Health Muhlenberg Community Hospital | 2 |
| Owensboro Health Twin Lakes Medical Center | 2 |
| TOTAL | 22 |
About Owensboro Health
Owensboro Health is a nonprofit health system with a mission to heal the sick and to improve the health of the communities it serves in Kentucky and Indiana. The system includes Owensboro Health Regional Hospital, nationally recognized for design, architecture and engineering; Owensboro Health Muhlenberg Community Hospital; Owensboro Health Twin Lakes Medical Center; the Owensboro Health Medical Group comprised of over 200 providers at more than 20 locations; three outpatient Healthplex facilities, a certified medical fitness facility, the Healthpark; a surgical weight loss center and program, and the Mitchell Memorial Cancer Center.
On average each year, we have 16,000 inpatient admissions, deliver 2,000 babies and provide the region's only Level III NICU. Owensboro Health physicians perform nearly 24,000 surgical procedures, including nearly 200 open-heart surgeries. Our physicians and staff have 70,000 Emergency Department visits, more than a million outpatient visits annually. Visit our home page for more information.