Published on October 05, 2021
Website Content Management System & Hosting Upgrade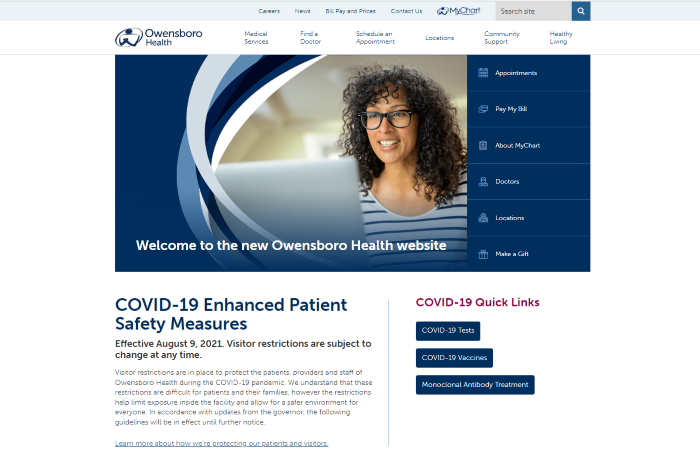 The Owensboro Health website at OwensboroHealth.org is our key entry point for patients, healthcare providers and the community to learn more about our extensive range of services and growing health system.
During the past year and a half, our website has become a critical resource for the community as we've shared information regarding the pandemic. From educating the public about COVID-19 and hosting printable signs for local businesses to testing and scheduling vaccine appointments, OwensboroHealth.org has been a valuable asset to the community. 
In 2020, the website had nearly 900,000 users and 2.4 million visits. 
Because this website is such a vital resource, Owensboro Health Marketing and IT teams have been working to make it even more robust. Since February 2021, team members have partnered with FFW and Acquia to build a new site which will launch October 6. Our discovery and research portion of this project helped us to clarify organizational goals, prioritize which features to redesign and to identify current website user challenges. This effort included user research interviews, testing and internal workshops. 
Why We Needed To Upgrade
Because the previous website had limitations, we decided to upgrade to a system with more capability and an enhanced digital experience for patients. The goal with this change is to gain more control over our online presence. By moving to an open-source content management system called Drupal, we have more freedom to create a site that fits our needs. We can now maintain our site with internal staff, or seek outside help at our discretion with an agency of our choice -- an option we did not previously have. This control over the site allows us to make faster changes and quickly adapt to current market trends. This will allow us to be more competitive and take advantage of features already used by other healthcare leaders. 
What's Changed
Beyond a new aesthetic, the new site is built to be more accessible for all. Although most technical enhancements are behind the scenes, users may notice faster content delivery and improved navigation. There are also updates to improve search engine optimization (SEO) and clearer pathways to get users where they need to go more efficiently. 
These changes are also reflected on the Owensboro Health intranet site, Link. 
Work will continue on the site. Phase one focused on migrating content from previous sites, while phase two plans include improvements to online scheduling and content personalization.
The Owensboro Health system is dedicated to offering quality care, and this improvement to our web presence reflects that. 
About Owensboro Health
Owensboro Health is a nonprofit health system with a mission to heal the sick and to improve the health of the communities it serves in Kentucky and Indiana. The system includes Owensboro Health Regional Hospital, nationally recognized for design, architecture and engineering; Owensboro Health Muhlenberg Community Hospital; Owensboro Health Twin Lakes Medical Center; the Owensboro Health Medical Group comprised of over 200 providers at more than 20 locations; three outpatient Healthplex facilities, a certified medical fitness facility, the Healthpark; a surgical weight loss center and program, and the Mitchell Memorial Cancer Center.
On average each year, we have 16,000 inpatient admissions, deliver 2,000 babies and provide the region's only Level III NICU. Owensboro Health physicians perform nearly 24,000 surgical procedures, including nearly 200 open-heart surgeries. Our physicians and staff have 70,000 Emergency Department visits, more than a million outpatient visits annually. Visit our home page for more information.