Published on October 20, 2022
Jenkins Earns CARE Award For Respiratory Therapy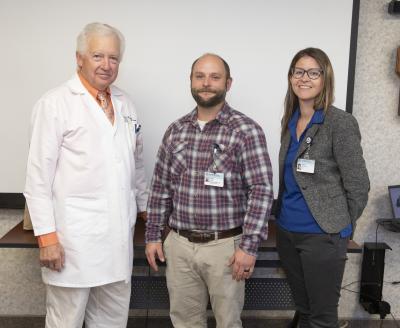 Chris Jenkins, Director of Respiratory Services at Owensboro Health Twin Lakes Medical Center, received the Commonwealth Award for Respiratory Excellence from the Kentucky Society for Respiratory Care last week. The CARE Award recognizes outstanding respiratory therapists in Kentucky, who are nominated by their peers for their outstanding work and commitment to care for their patients. 
In his nomination, Chris's peers shared that he has stood out during the pandemic, pulling swing shifts on the floor as a respiratory therapist performing patient care, while simultaneously managing his department and sharing COVID-19 best practices with the care teams. He exemplifies the word dedication — to both his team and his patients — as a genuine patient advocate who never hesitates to educate others. They also noted that Chris has given up his free time to ensure patients have adequate care during staffing shortages.
"It is such an honor to be recognized," Chris said. " Sometimes this is just what we do every day, so it becomes routine and easy to forget how noticeable or appreciated our hard work is."
Chris said he decided to become a respiratory therapist while working as an emergency room technician. "I watched respiratory therapists swoop into the ED like an internal EMS when called. They seemed to take control of critical situations, and their precision was amazing to watch. I realized that RT was involved in so much around the building, and there was never a dull moment for this group. Also, both of my older brothers were nurses and I wanted to do something important but different." 
The career choice has been a rewarding one. "As an RT, the best thing was seeing from bedside the improvement of patients that are having difficulty breathing. At this point, you know that you are making a difference for someone that truly needs your help," he said. "Now, as the RT leader, my favorite part is getting positive feedback from the good things RT is doing around the building."
Congratulations on this deserved honor, Chris! 
About Owensboro Health
Owensboro Health is a nonprofit health system with a mission to heal the sick and to improve the health of the communities it serves in Kentucky and Indiana. The system includes Owensboro Health Regional Hospital, nationally recognized for design, architecture and engineering; Owensboro Health Muhlenberg Community Hospital; Owensboro Health Twin Lakes Medical Center; the Owensboro Health Medical Group comprised of over 200 providers at more than 20 locations; three outpatient Healthplex facilities, a certified medical fitness facility, the Healthpark; a surgical weight loss center and program, and the Mitchell Memorial Cancer Center.
On average each year, we have 16,000 inpatient admissions, deliver 2,000 babies and provide the region's only Level III NICU. Owensboro Health physicians perform nearly 24,000 surgical procedures, including nearly 200 open-heart surgeries. Our physicians and staff have 70,000 Emergency Department visits, more than a million outpatient visits annually. Visit our home page for more information.