Published on June 09, 2022
Nursing Honor Guard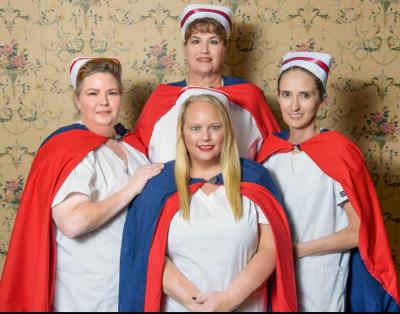 The Nurse Honor Guard is a group of active and retired nurses who volunteer their time to pay tribute to nurses who have served their community as nurses during their funeral or memorial service. 
The Daviess County chapter was established in August 2021 and consists of about 20 active and retired nurses who volunteer their time to perform a five-minute ceremony to pay tribute to these nurses at their memorial service. They wear a traditional nurse's uniform and cap and recite the Nightingale Pledge, before reading a memorial poem. A white rose is placed in the casket or next to an urn. The ceremony concludes with the Lamp Dedication, where a Nightingale Lamp, a symbol of what modern nursing founder Florence Nightingale stood for, is lit to symbolize the deceased's years of dedication to the nursing profession.
A triangle is then rung three times as the deceased is asked to report for their shift. Lastly, the Nurse Honor Guard will relieve the deceased nurse from their earthly nursing duties. The lamp is then extinguished and presented to the family. This service is free of charge for the family.
The cost of membership in the chapter is a one-time fee of $40, and it includes a handmade blue-and-red cape and traditional nurses cap. Membership is open to any active or retired nurse with a license in good standing including RN, BSN, LPN, LVN, MSN and APRN. You do not have to live in Daviess County to join. The organization is currently working towards its nonprofit 501©(3) certification.
If you are interested in joining the Daviess County chapter or to arrange a ceremony, contact Tamara Cox at 270-570-2766 or Felicia Elliott at 270-929-1524.
About Owensboro Health
Owensboro Health is a nonprofit health system with a mission to heal the sick and to improve the health of the communities it serves in Kentucky and Indiana. The system includes Owensboro Health Regional Hospital, nationally recognized for design, architecture and engineering; Owensboro Health Muhlenberg Community Hospital; Owensboro Health Twin Lakes Medical Center; the Owensboro Health Medical Group comprised of over 200 providers at more than 20 locations; three outpatient Healthplex facilities, a certified medical fitness facility, the Healthpark; a surgical weight loss center and program, and the Mitchell Memorial Cancer Center.
On average each year, we have 16,000 inpatient admissions, deliver 2,000 babies and provide the region's only Level III NICU. Owensboro Health physicians perform nearly 24,000 surgical procedures, including nearly 200 open-heart surgeries. Our physicians and staff have 70,000 Emergency Department visits, more than a million outpatient visits annually. Visit our home page for more information.