Published on November 14, 2022
OH names Chris Sale as VP of Operations for Owensboro Health Regional Hospital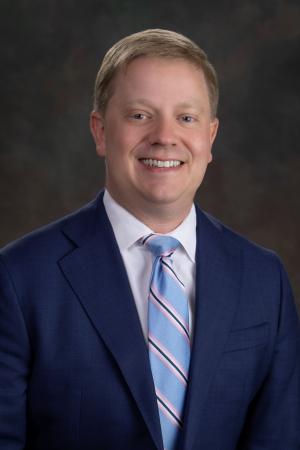 Owensboro Health has named Chris Sale, a healthcare executive with extensive experience at systems in Louisiana, to the role of Vice President of Operations for Owensboro Health Regional Hospital. Sale joined Owensboro Health on Nov. 7, and he reports to Chief Operating Officer Beth Steele. His areas of responsibilities will include the Wound Clinic, Mitchell Memorial Cancer Center, Inpatient and Outpatient Radiology, Emergency Department, Trauma Services, Pastoral Care, Respiratory, Therapies and Food & Nutrition Services.
"We are very excited about the vast experience and expertise that Chris brings to Owensboro Health," Steele said. "But just as important is his passion for building a culture of teamwork and excellence. Chris truly exemplifies our core commitments, and he looks forward to building relationships within the organization and the community."
Sale most recently served as Corporate Administrator of Operations for Willis-Knighton Health System in Shreveport. During his tenure, Sale achieved significant growth in cath lab margins, endoscopy margins, ophthalmic surgery volumes and vein procedures. He also developed a three-year strategic plan for Cardiovascular Services that expanded the service line and improved quality benchmarks; oversaw a major expansion of the endoscopy lab; and developed key partnerships with Children's Hospital New Orleans and Tulane School of Medicine. 
Sale has also held executive positions with Children's Hospital New Orleans and Ochsner Health, New Orleans. He holds a bachelor's degree from Millsaps College (Jackson, MS) and master's degrees from both LSU and The University of Alabama at Birmingham.
"I am thrilled to be joining an organization in Owensboro Health that has such a long history of serving the healthcare needs of the region," Sale said. "The facility is truly a healing environment and provides a beautiful backdrop for the staff to care for patients. I look forward to collaborating with the team and doing my part to contribute to the health system's continued growth."
About Owensboro Health
Owensboro Health is a nonprofit health system with a mission to heal the sick and to improve the health of the communities it serves in Kentucky and Indiana. The system includes Owensboro Health Regional Hospital, nationally recognized for design, architecture and engineering; Owensboro Health Muhlenberg Community Hospital; Owensboro Health Twin Lakes Medical Center; the Owensboro Health Medical Group comprised of over 350 providers at more than 30 locations; three outpatient Healthplex facilities, a certified medical fitness facility, the Healthpark; a surgical weight loss center and program, and the Mitchell Memorial Cancer Center.
On average each year, we have more than 19,000 inpatient admissions, deliver 2,000 babies and provide the region's only Level III NICU. Owensboro Health physicians perform nearly 33,000 surgical procedures, including nearly 150 open-heart surgeries. Our physicians and staff have 90,000 Emergency Department visits and more than 1.25 million outpatient visits annually. Visit our home page for more information.