Published on April 28, 2022
OHRH Trauma Services Recognized by American College of Surgeons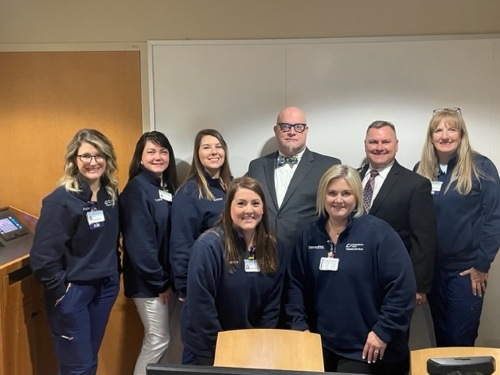 Owensboro Health Regional Hospital Trauma Services has successfully met the criteria established by the American College of Surgeons to be an ACS verified Level III Trauma Center. During the verification process, OHRH met the criteria put forth by the ACS demonstrating the quality of our processes when caring for a trauma patient.  
Mike Mixson, Director of Trauma Services, said the team had a 16-month preparation plan, 100% dedication from all trauma services staff, and full focus on every aspect of trauma care to meet the required criteria. This means focusing on the entire continuum of care: prehospital to post-rehabilitation, including injury prevention.
"Improving the care we provide all trauma patients through processes and clinical practice is always the goal," Mixson said. "This national verification validates excellence in those processes and practices."
"We are all very happy that the work within each department in the hospital that supports trauma services shows the strong processes and exemplary care we provide our trauma patients," he said. "We are also humbled and honored to have three "best practices" identified and recognized in our program."
Being designated and verified as a Trauma Center ensures the community that the clinical practices and processes of care for seriously injured patients meet or exceed national standards. With zero deficiencies and three best practices, Owensboro Health Regional Hospital is a leader in Trauma Care for Western Kentucky.
Congratulations to the OHRH Trauma Team and all hospital departments that care for trauma patients.
About Owensboro Health
Owensboro Health is a nonprofit health system with a mission to heal the sick and to improve the health of the communities it serves in Kentucky and Indiana. The system includes Owensboro Health Regional Hospital, nationally recognized for design, architecture and engineering; Owensboro Health Muhlenberg Community Hospital; Owensboro Health Twin Lakes Medical Center; the Owensboro Health Medical Group comprised of over 200 providers at more than 20 locations; three outpatient Healthplex facilities, a certified medical fitness facility, the Healthpark; a surgical weight loss center and program, and the Mitchell Memorial Cancer Center.
On average each year, we have 16,000 inpatient admissions, deliver 2,000 babies and provide the region's only Level III NICU. Owensboro Health physicians perform nearly 24,000 surgical procedures, including nearly 200 open-heart surgeries. Our physicians and staff have 70,000 Emergency Department visits, more than a million outpatient visits annually. Visit our home page for more information.