Published on October 17, 2022
One Step At A Time: Mason Continues To Stay Motivated In Recovery
By Freddie Bourne Messenger-Inquirer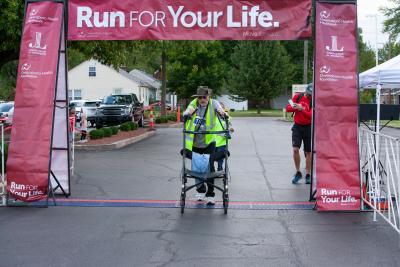 Owensboro resident Richard Mason is not allowing any obstacles to get in the way of him living life to the fullest. But a few years ago, that didn't seem likely.
Around 2017, Mason, 76, started to get stiff and his "muscles didn't work right," along with experiencing fatigue, low energy and issues with his balance. "I had trouble walking and so forth," he said. "Handwriting got smaller and smaller. I was working at the hospital as a part-time chaplain, and my handwriting was so small they could hardly read the reports I wrote." He eventually was diagnosed with Parkinson's disease. It even got to the point where Mason had to sleep in a recliner for a few days, but couldn't get up even with the assistance of his wife and a healthcare worker.
After being admitted into the hospital, Mason was evaluated before being moved into SignatureHealthcare at Hillcrest in 2018. Mason thought there was a "low probability" that he would be able to walk again, but he was able to find a glimmer of hope one day when an occupational therapist asked him to try to stand up.
"I said, 'I can't stand up. I haven't (stood) up in a couple years,' and she said, 'Well, let's try,' " he said, "so she helped me, I stood and held my own weight, and she kept me balanced."

A few weeks later Mason started working on the parallel bars in the therapy room. And before long, he was able to take his first steps in over a year. "I took a step of about two inches and then another about two inches (with) those bars holding me up," he said. "That's the beginning of me walking." Once he started, Mason was motivated to get out of the nursing home. And after 756 days, he did just that.
"I'm fortunate to be alive," he said. "I think it's a miracle, myself." Fast forward to 2022, and Mason is taking on life with every stride. "I'm doing quite well," he said. "I have walked over 819 miles since I got out of the nursing home two years ago."
And some of those miles included getting him prepared for one of his bucket list items: to complete the Owensboro Health Healthpark Run For Your Life 5K.
"I just wanted to accomplish it," he said. "I knew I wouldn't win; didn't expect to win and didn't really want to win. I just wanted to show that I could walk 3.1 miles. …I wanted to prove I could do it." Mason began to train by putting weights on each of his ankles and started to walk further and further outside with his up-walker.

Jason Anderson, manager of health and fitness at Owensboro Health Healthpark, first met Masonat the facility informally at the front desk when Mason was looking to take a tour. It wasn't until Anderson overheard someone at the Healthpark talking about Mason's intention to participate in the 5K that he began talking to Mason a little more.
"...The first thing I thought was how are we going to be able to do that because when you have a5K, you have to have police close off roads and things like that; you really need to be done at certain time," he said. "I was thinking logically about how could (it) happen …."
Anderson gave Mason a call about the race, and he told Anderson about the training he was doing in preparation for the event. "I can't take any credit for a training program; he was already doing his own thing," Anderson said. Still, Anderson wanted to make sure there was a feasible way to have Mason take part in the 5K.

"...I gave him the map of what the route would be so if he wanted to come and practice (walking)the route, he could do that and have some familiarity with it …," he said.

On race day, Anderson had Mason start an hour earlier than the original race start time alongside his wife Sandra, son Derrick, and granddaughter Emily, so Mason would be able to finish around the same time as the other runners and walkers.
"It was really good to do it that way because he experienced finishing the event along the same time as other people (did) and kind of have that celebration," Anderson said.
When Mason crossed the finish line, he beat his goal time of an hour and a half by six minutes. "It felt great. I did it," he said. "I knew I could do it, but it had to be shown."

"It's just really encouraging," Anderson said. "We all, no matter what your state of fitness (is), I believe we all struggle sometimes with exercise. …I think of somebody like (Richard) out there with the challenges they had, to put the work in to realize their goal; and it just kind of gives you a little motivation…."

Mason has kept busy in life exploring new adventures, such as learning how to ride horses through Dream Riders of Kentucky, while also opening the door for people to reach out to him regarding support for Parkinson's and sharing his story and help where he can. He also recently started a career as a copywriter and has plans to buy a camper van and travel across the United States with his wife.
Above all, Mason is not letting a disease define who he is.

"I have Parkinson's, but Parkinson's does not have me," he said. Mason can be reached at richardmasonphd@gmail.com
.
About Owensboro Health
Owensboro Health is a nonprofit health system with a mission to heal the sick and to improve the health of the communities it serves in Kentucky and Indiana. The system includes Owensboro Health Regional Hospital, nationally recognized for design, architecture and engineering; Owensboro Health Muhlenberg Community Hospital; Owensboro Health Twin Lakes Medical Center; the Owensboro Health Medical Group comprised of over 350 providers at more than 30 locations; three outpatient Healthplex facilities, a certified medical fitness facility, the Healthpark; a surgical weight loss center and program, and the Mitchell Memorial Cancer Center.
On average each year, we have more than 19,000 inpatient admissions, deliver 2,000 babies and provide the region's only Level III NICU. Owensboro Health physicians perform nearly 33,000 surgical procedures, including nearly 150 open-heart surgeries. Our physicians and staff have 90,000 Emergency Department visits and more than 1.25 million outpatient visits annually. Visit our home page for more information.