Published on May 17, 2022
Owensboro Health Performs 10,000 Lung Screenings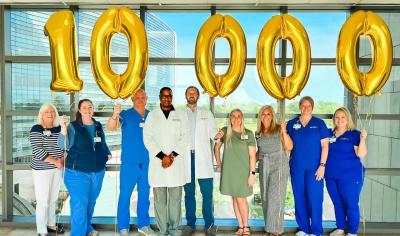 Owensboro Health recently achieved an impressive milestone, completing 10,000 lung cancer screenings! These screenings are a great way to detect lung cancer in its initial stages—when treatment works best. If you're at high risk for lung cancer, ask your doctor if Low-Dose CT Lung Cancer Screening might be right for you or call our dedicated nurse navigator at 270-417-7641 to learn more. To make this life-saving screening more accessible, the out-of-pocket cost is just $99. If you're under or un-insured, please call our dedicated nurse navigator to discuss the grant options available for you.
About Owensboro Health
Owensboro Health is a nonprofit health system with a mission to heal the sick and to improve the health of the communities it serves in Kentucky and Indiana. The system includes Owensboro Health Regional Hospital, nationally recognized for design, architecture and engineering; Owensboro Health Muhlenberg Community Hospital; Owensboro Health Twin Lakes Medical Center; the Owensboro Health Medical Group comprised of over 200 providers at more than 20 locations; three outpatient Healthplex facilities, a certified medical fitness facility, the Healthpark; a surgical weight loss center and program, and the Mitchell Memorial Cancer Center.
On average each year, we have 16,000 inpatient admissions, deliver 2,000 babies and provide the region's only Level III NICU. Owensboro Health physicians perform nearly 24,000 surgical procedures, including nearly 200 open-heart surgeries. Our physicians and staff have 70,000 Emergency Department visits, more than a million outpatient visits annually. Visit our home page for more information.