Published on August 29, 2022
Owensboro Health Regional Hospital Nationally Recognized for High-Quality Stroke Care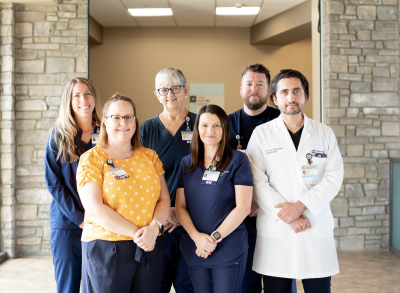 OWENSBORO, KY— Owensboro Health Regional Hospital has received the American Heart Association's GoldPlus Get With The Guidelines® - Stroke Quality Achievement Award. This honor is for the commitment to ensuring stroke patients receive the most appropriate treatment according to nationally recognized guidelines, ultimately leading to more lives saved and reduced disability.
Owensboro Health Regional Hospital received the American Heart Association's Get With The Guidelines-Stroke Gold Plus award with Target: Type 2 Diabetes Honor Roll. This award aims to ensure patients with Type 2 diabetes, who might be at higher risk for complications, receive the most up-to-date, evidence-based care when hospitalized due to stroke.
Stroke is the No. 5 cause of death, and a leading cause of disability in the U.S. A stroke occurs when a blood vessel that carries oxygen and nutrients to the brain is either blocked by a clot or bursts. When that happens, part of the brain cannot get the blood and oxygen it needs, so brain cells die. Early stroke detection and treatment are key to improving survival, minimizing disability and accelerating recovery times.
Get With The Guidelines puts the expertise of the American Heart Association and American Stroke Association to work for hospitals nationwide, helping ensure patient care is aligned with the latest research- and evidence-based guidelines. Get With The Guidelines - Stroke is an in-hospital program for improving stroke care by promoting consistent adherence to these guidelines, which can minimize the long-term effects of a stroke and even prevent death.
"The stroke team continuously reviews our processes and protocols to ensure that our work meets the needs of our patients and their loved ones," Tabitha Drane, Owensboro Health Clinical Program Specialist, said. "We use evidenced-based care to improve patient outcomes and decrease complications of stroke. The end goal is to ensure more people in Owensboro can experience longer, healthier lives."
Each year, program participants qualify for the award by demonstrating how their organization has committed to providing quality care for stroke patients. In addition to following treatment guidelines, Get With The Guidelines participants also educate patients to help them manage their health and recovery at home.
"We are incredibly pleased to recognize Owensboro Health Regional Hospital for its commitment to caring for patients with stroke," said Steven Messe, M.D., chairperson of the Stroke System of Care Advisory Group. "Participation in Get With The Guidelines is associated with improved patient outcomes, fewer readmissions and lower mortality rates – a win for health care systems, families and communities."
The recognition comes from a team effort. 
"Our stroke team is proud of the work that we do day in and day out with our stroke patients," Drane said. "Stroke care is truly interdisciplinary — from rapid triage, assessment and intervention in the emergency department — to early acute care and therapy in the hospital and then rehabilitation. To be recognized for this on a national level is a great honor for all involved." 
The stroke care team was also recently recognized by U.S. News & World Report, the global authority in hospital rankings and consumer advice. The organization named Owensboro Health Regional Hospital a 2022-2023 "High Performing Hospital" (the highest rating available) for the care of strokes, as well as heart attacks, COPD and kidney failure.
Contact: Jacqueline Russell, Owensboro Health Marketing Specialist, (O) 270-691-7877, (C) 270-543-8368 or Jacqueline.Russell@OwensboroHealth.org.
# # #
About Get With The Guidelines®
Get With The Guidelines® is the American Heart Association/American Stroke Association's hospital-based quality improvement program that provides hospitals with the latest research-based guidelines. Developed with the goal of saving lives and hastening recovery, Get With The Guidelines has touched the lives of more than 12 million patients since 2001. For more information, visit heart.org.
About Owensboro Health
Owensboro Health is a nonprofit health system with a mission to heal the sick and to improve the health of the communities it serves in Kentucky and Indiana. The system includes Owensboro Health Regional Hospital, nationally recognized for design, architecture and engineering; Owensboro Health Muhlenberg Community Hospital; Owensboro Health Twin Lakes Medical Center; the Owensboro Health Medical Group comprised of over 350 providers at more than 30 locations; three outpatient Healthplex facilities, a certified medical fitness facility, the Healthpark; a surgical weight loss center and program, and the Mitchell Memorial Cancer Center.
On average each year, we have more than 19,000 inpatient admissions, deliver 2,000 babies and provide the region's only Level III NICU. Owensboro Health physicians perform nearly 33,000 surgical procedures, including nearly 150 open-heart surgeries. Our physicians and staff have 90,000 Emergency Department visits and more than 1.25 million outpatient visits annually. Visit our home page for more information.