Published on July 11, 2022
Owensboro Health Welcomes The Women's Pavilion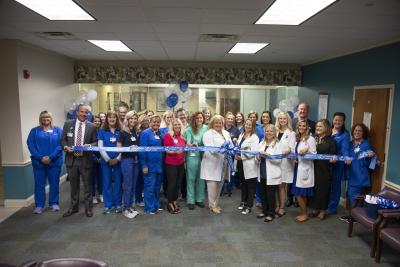 Owensboro Health held a ribbon cutting this morning at The Women's Pavilion to welcome providers  Andrea Moore, MD, FACOG; Angela Dawson, MD, FACOG; Ann Watson, APRN; Megan Burch, APRN; Darla Alvey, APRN and Kaitlin Wells, APRN  to the Owensboro Health Medical Group. 
"One of the reasons that we wanted to join Owensboro Health is that we wanted to expand our practice and really expand our ability to provide health care to more women in our community," Dr. Andrea Moore said. "Once we met with administration and started talking, we realized that his was going to be a perfect fit. They've got all the resources that we could ever need to really get out there and expand our reach and really help our women in our community to be healthier and to have more access."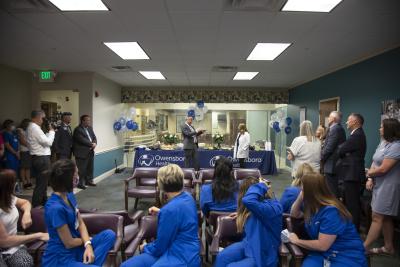 Moore said since the practice is remaining at its currently location at The Springs (2200 E. Parrish Ave., Building B - Suite 201), the transition will be easy for patients. "Our patients can come where they're comfortable coming, where they know how to find us," she said. "We are just ready to hit the ground running."
It's just a just a great day," Mack Howell, Chief Operating Officer of Owensboro Health Medical Group said at the event. "We're super excited. I look forward to working with all of you and partnering with you. I think it's going to be great for our community."
About Owensboro Health
Owensboro Health is a nonprofit health system with a mission to heal the sick and to improve the health of the communities it serves in Kentucky and Indiana. The system includes Owensboro Health Regional Hospital, nationally recognized for design, architecture and engineering; Owensboro Health Muhlenberg Community Hospital; Owensboro Health Twin Lakes Medical Center; the Owensboro Health Medical Group comprised of over 200 providers at more than 20 locations; three outpatient Healthplex facilities, a certified medical fitness facility, the Healthpark; a surgical weight loss center and program, and the Mitchell Memorial Cancer Center.
On average each year, we have 16,000 inpatient admissions, deliver 2,000 babies and provide the region's only Level III NICU. Owensboro Health physicians perform nearly 24,000 surgical procedures, including nearly 200 open-heart surgeries. Our physicians and staff have 70,000 Emergency Department visits, more than a million outpatient visits annually. Visit our home page for more information.