Published on June 21, 2022
Stop the Bleed Education at RWRA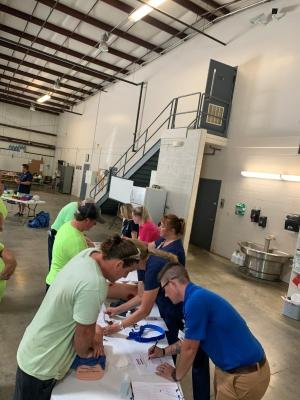 On June 13, team members from Trauma Services and the Emergency Department had the opportunity to participate in community education and outreach.  Kay Ewing, RN, Savannah Prior, RN, Katie Wilkerson, RN, Nick Cox, ED Tech, and Rhonda Bergstrom, RN, were able to train and certify 46 employees at RWRA (Regional Water Resource Agency) in the lifesaving skills of Stop the Bleed. 
The purpose of the STOP THE BLEED® campaign is to make our nation more resilient by better preparing the public to save lives if people nearby are severely bleeding. This preparation is being done by raising awareness and teaching people how to learn three quick actions to control serious bleeding.
Interested in scheduling a course? Please contact Kay Ewing, Injury Prevention and Outreach Coordinator at 270-417-5967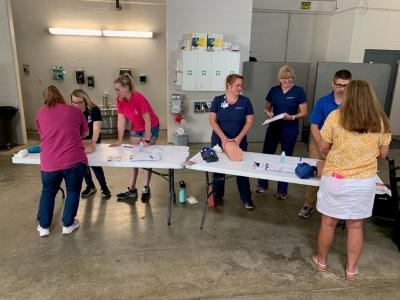 About Owensboro Health
Owensboro Health is a nonprofit health system with a mission to heal the sick and to improve the health of the communities it serves in Kentucky and Indiana. The system includes Owensboro Health Regional Hospital, nationally recognized for design, architecture and engineering; Owensboro Health Muhlenberg Community Hospital; Owensboro Health Twin Lakes Medical Center; the Owensboro Health Medical Group comprised of over 200 providers at more than 20 locations; three outpatient Healthplex facilities, a certified medical fitness facility, the Healthpark; a surgical weight loss center and program, and the Mitchell Memorial Cancer Center.
On average each year, we have 16,000 inpatient admissions, deliver 2,000 babies and provide the region's only Level III NICU. Owensboro Health physicians perform nearly 24,000 surgical procedures, including nearly 200 open-heart surgeries. Our physicians and staff have 70,000 Emergency Department visits, more than a million outpatient visits annually. Visit our home page for more information.