Published on March 01, 2023
GIVES 2022 Final Numbers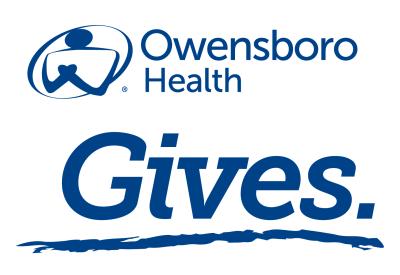 Each year, Owensboro Health team members support local non-profit agencies with similar missions, allowing us to serve our communities in ways beyond traditional medicine. 
We know that by partnering with others, we can accomplish much more than we can on our own.
Our team members consistently choose to help others by donating food and funds to aid those less fortunate. It's clear to see Owensboro Health Gives is very special to our team - and it's vital to our community.
For the 2022 giving campaign, our team has pledged $376,234.50 — up from $316,364.00 the previous year. (Including the 50% match from Owensboro Health.)
Additionally, team members donated a staggering 13,139 pounds of goods to the annual food drive. 
We want to thank our team members for their commitment to our communities!
About Owensboro Health
Owensboro Health is a nonprofit health system with a mission to heal the sick and to improve the health of the communities it serves in Kentucky and Indiana. The system includes Owensboro Health Regional Hospital, nationally recognized for design, architecture and engineering; Owensboro Health Muhlenberg Community Hospital; Owensboro Health Twin Lakes Medical Center; the Owensboro Health Medical Group comprised of over 200 providers at more than 20 locations; three outpatient Healthplex facilities, a certified medical fitness facility, the Healthpark; a surgical weight loss center and program, and the Mitchell Memorial Cancer Center.
On average each year, we have 16,000 inpatient admissions, deliver 2,000 babies and provide the region's only Level III NICU. Owensboro Health physicians perform nearly 24,000 surgical procedures, including nearly 200 open-heart surgeries. Our physicians and staff have 70,000 Emergency Department visits, more than a million outpatient visits annually. Visit our home page for more information.