Published on September 21, 2023
Local women create podcast to empower women, celebrate success; Naylor named 'Broad of the Year'
Owensboro's Jackie Smith and Becca McQueen-Ruark created "The Broad Pod" podcast in July 2022 to encourage women to celebrate their successes. To celebrate the end of the first season, they recently hosted a luncheon to recognize guests from each episode and crowned Tracy Naylor as the "Broad of the Year."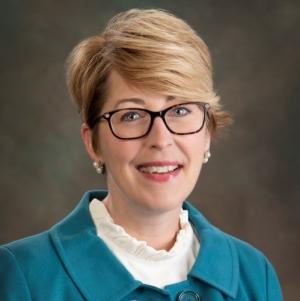 A panel of four women from outside the community listened to each episode to determine the "Broad of the Year," eventually arriving at Naylor, executive director of the Owensboro Health Foundation.
"We asked the panel why they selected Naylor, and their response was immediate," McQueen-Ruark said. "They specifically commented on her overcoming obstacles, including a cancer diagnosis. They added that she approaches everything joyfully and is the 'true definition of turning lemons into lemonade.'"
Throughout 28 episodes, McQueen-Ruark and Smith interviewed 25 women from Owensboro and Daviess County. McQueen-Ruark said the community had recognized many women they interviewed, while others were doing amazing things but flying under the radar.
"So often, women are encouraged not to celebrate their successes and contributions, and we thought this created an outlet for celebration," she said. "We wanted to celebrate women and help them realize how they contribute to their direct sphere and the greater community."
The two have interviewed everyone from a stay-at-home mom and an English teacher to personal trainers and a doctor who shifted from practicing medicine to owning and operating Airbnbs. They even interviewed their own mothers for a special Mother's Day episode.
They always begin each show with three icebreaker questions, leading with an easy question about their favorite song but concluding with, "What are you most proud of about yourself?"
"That was my favorite question," McQueen-Ruark said. "There was always a pause and a level of discomfort with responding. Once they answer, it's cool to see them celebrate themselves, whether in the home, workplace, or a community organization – they start to see how they're making a difference."
Smith and McQueen-Ruark hosted the celebration at Bayside at the Party Space Place on Thursday. They awarded each woman in attendance with a superlative so no one walked away empty-handed.
Thanks to ticket sales and sponsorships from River Valley Behavioral Health and others, they raised over $2,000 to support a local woman battling infertility.
"Our biggest hope from this is that recognizing these inspirational women will inspire others to go out and be the best version of themselves and not be afraid to celebrate their accomplishments."
Stream The Broad Pod on Spotify, Apple Play, and anywhere else podcasts are available. McQueen-Ruark and Smith just launched season two.
About Owensboro Health
Owensboro Health is a nonprofit health system with a mission to heal the sick and to improve the health of the communities it serves in Kentucky and Indiana. The system includes Owensboro Health Regional Hospital, nationally recognized for design, architecture and engineering; Owensboro Health Muhlenberg Community Hospital; Owensboro Health Twin Lakes Medical Center; the Owensboro Health Medical Group comprised of over 350 providers at more than 30 locations; three outpatient Healthplex facilities, a certified medical fitness facility, the Healthpark; a surgical weight loss center and program, and the Mitchell Memorial Cancer Center.
On average each year, we have more than 19,000 inpatient admissions, deliver 2,000 babies and provide the region's only Level III NICU. Owensboro Health physicians perform nearly 33,000 surgical procedures, including nearly 150 open-heart surgeries. Our physicians and staff have 90,000 Emergency Department visits and more than 1.25 million outpatient visits annually. Visit our home page for more information.