Published on January 06, 2023
Mindful Eating: Slow Down and Savor Every Bite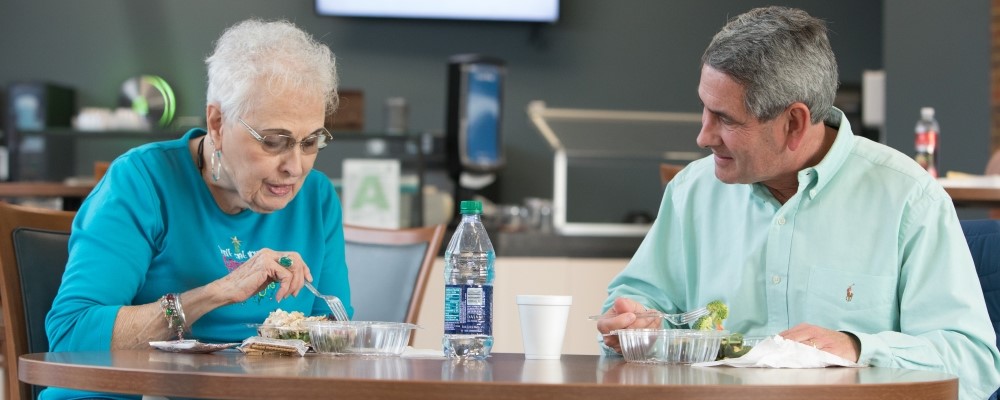 By Elaine Clark, MSN, RN
Clinical Program Specialist, Owensboro Health Surgical Weight Loss Center
In our busy lives, it is often hard to find time to sit down and enjoy our food at meal times. Much of the time we eat on the run, in between our kids practices, or we scarf down our meal at our desk at work so we can get to the next meeting on time. We are working, raising families and taking care of all our other daily responsibilities, leaving little time for us to actually stop and eat a meal. It is important to slow down and plan time for meals into our day-to-day lives.  
What is Mindful Eating?
The concept of mindful eating is one way to help us slow down at meal times. Mindful eating is important for those people who have had weight loss surgery, and It would be helpful to begin this practice even before surgery.
Mindful eating is a way to be present, pay attention and experience your food, savoring every bite. It is to get rid of distractions around meal times and slow down. Just focus on the meal and listen to your body. This allows us to chew our food well, which is very important after weight loss surgery, and it allows our mind and body to communicate. Our bodies will give us cues to tell us that we are full. Slowing down and practicing mindfulness while eating will help us notice those cues and stop eating. This takes practice, so allow yourself some grace when learning to incorporate this new concept into your daily life.
Tips to Eliminate Distractions While Eating
Turn off the TV.
Put away electronic devices.
Put down your fork or spoon in between each bite of food.
Focus on what you are eating – pay attention to the flavors and textures of your food.
Enjoy being where you are and who you are with.
More Information
For more information on mindful eating, take a look at the Owensboro Health Surgical Weight Loss Center's Patient Information Guide, beginning with page 41.
About Owensboro Health
Owensboro Health is a nonprofit health system with a mission to heal the sick and to improve the health of the communities it serves in Kentucky and Indiana. The system includes Owensboro Health Regional Hospital, nationally recognized for design, architecture and engineering; Owensboro Health Muhlenberg Community Hospital; Owensboro Health Twin Lakes Medical Center; the Owensboro Health Medical Group comprised of over 200 providers at more than 20 locations; three outpatient Healthplex facilities, a certified medical fitness facility, the Healthpark; a surgical weight loss center and program, and the Mitchell Memorial Cancer Center.
On average each year, we have 16,000 inpatient admissions, deliver 2,000 babies and provide the region's only Level III NICU. Owensboro Health physicians perform nearly 24,000 surgical procedures, including nearly 200 open-heart surgeries. Our physicians and staff have 70,000 Emergency Department visits, more than a million outpatient visits annually. Visit our home page for more information.