Published on September 15, 2023
OH, Brescia Partner for Pediatric Workforce Development Program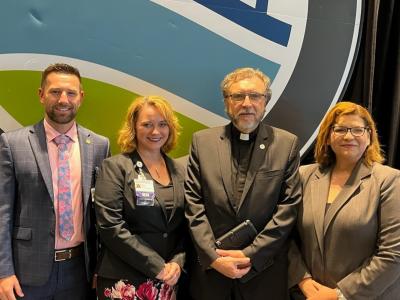 By Freddie Bourne, Messenger-Inquirer
Owensboro Health and Brescia University will collaborate on a "first-of-its-kind" workforce development program to train healthcare workers in management of pediatric patients to help reduce the stress and anxiety both children and families experience in healthcare settings, particularly in the emergency department.
The announcement of the partnership was made during the Greater Owensboro Chamber of Commerce Rooster Booster breakfast on Sept. 7. The first cohort of the program began  Monday.
"This program is so exciting for our patients and also for the development of our team members," said Rhonda Bergstrom, director of nursing, emergency services for Owensboro Health Regional Hospital. "It's a program that is truly something that we can offer additional benefits to the patients who are in our community, but it takes our team members and gives them extra tools in their toolbox to work with our pediatric patients, and really give them a more enriching experience when they're (at the hospital) in the emergency department."
The funding for the training was made possible through the Owensboro Health Foundation, which is part of the pediatric readiness child life program that was submitted as a two-year pilot program "to make certain that we're able to enhance the experience of pediatric patients," Bergstrom said.
The management program will be based on "the most effective therapy tools" and the Adlerian play therapy principle, OH said in a press release. The Adlerian play therapy principle is "based on the belief that people have feelings of inferiority, social embeddedness, human creativity, self-determination, purposeful behavior, and subjective reality" according to the Association for Humanistic Counseling.
As part of the new partnership, Brescia's workforce development program and psychology faculty will train up to 10
OH team members through a 10-week, 40-hour course that will be based on expansion of communication, critical thinking and life-long learning skills in practical application to the healthcare work environment.
Participants will be able to help pediatric patients cope through the means of education, preparation and play more effectively by demonstrating all items a child may see, hear and feel before procedures take place.
"Adlerian play therapy and those therapy tools are the basis of child life specialty," Bergstrom said. "You'll find child life specialists in children's hospitals and pediatric emergency departments, but overall 90% of children throughout the U.S. are treated in everyday, full-serve emergency departments.
"We don't have a specialized area for pediatrics, and that's why it's so important that our team understands these concepts and can apply for our patients," Bergstrom said.
The emergency department can be scary for children because it's an unknown, and the program can help alleviate those concerns when they arrive at the hospital, Bergstrom said.
"When we have these therapy tools and the play principle, we can ease their fears," she said. "We can ease  their concerns as we move throughout the process for their treatment."
The program will also help staff members be more proficient in their bedside manner and create personal connections with the patients, she said.
"If I'm able to have a conversation with somebody and put them at ease, it helps develop a trusting relationship," she said. "... There's a component  of trust involved in that (those) communication skills that our team members will be developing."
Along with improving the patient's experience, the program will benefit staff in the long run as well, Bergstrom said.
"I'm looking for them to gain that desire for more knowledge with this, the recognition that they have the ability to really improve the experience and then that ability to make that enhanced connection with patients of all ages based on the skills that they're taught," she said.
About Owensboro Health
Owensboro Health is a nonprofit health system with a mission to heal the sick and to improve the health of the communities it serves in Kentucky and Indiana. The system includes Owensboro Health Regional Hospital, nationally recognized for design, architecture and engineering; Owensboro Health Muhlenberg Community Hospital; Owensboro Health Twin Lakes Medical Center; the Owensboro Health Medical Group comprised of over 350 providers at more than 30 locations; three outpatient Healthplex facilities, a certified medical fitness facility, the Healthpark; a surgical weight loss center and program, and the Mitchell Memorial Cancer Center.
On average each year, we have more than 19,000 inpatient admissions, deliver 2,000 babies and provide the region's only Level III NICU. Owensboro Health physicians perform nearly 33,000 surgical procedures, including nearly 150 open-heart surgeries. Our physicians and staff have 90,000 Emergency Department visits and more than 1.25 million outpatient visits annually. Visit our home page for more information.