Published on March 16, 2023
OH Develops Personal, Professional Relationships With Chronic Care Patients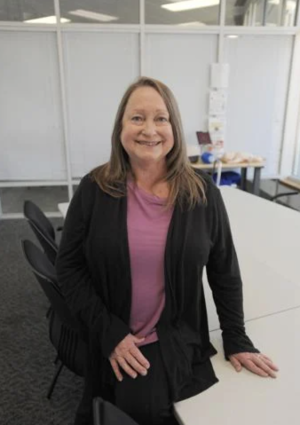 By Freddie Bourne Messenger-Inquirer
For Owensboro Health, communicating with patients is one of the organization's utmost focuses —particularly with its chronic care population.
Dr. Jim Tidwell, OH vice president of population health, said dedicated chronic care nurse navigators use their time to help meet the needs of patients through a monthly telephone call service.
The program started shortly after 2015, according to Tidwell, when Medicare approved payment for chronic care management services.
"It is a program for Medicare patients and several other commercial insurers, including what they called Medicare Advantage, which is kind of like commercial Medicare, have also agreed to pay for those services," he said. "Most  people 65 and older are eligible for the service."
Tidwell said eligibility requires a patient to have "two or more chronic conditions."  "The program is really designed to help those patients manage those chronic conditions," he said. Since the program launched, Tidwell said the nurses and patients have tended to develop a relationship as contact is made monthly, sometimes for years. Each call typically lasts about 20 minutes.
Carol Wayman, RN and care navigator for the chronic care management program, has been making phone calls to patients for about eight years with OH.
Currently, Wayman has about 125 patients she calls, and she typically hears from them more than once per month.
"I tell them it's like having your own personal nurse," she said. "I call them monthly if everything is going fine. Some patients will talk every day or two or three times a day to address something drastic that's going on or a major event."
"... Depending on how (the patient) is doing, the nurse might reach out to them every week for a while to make sure they're doing alright," Tidwell said.
Wayman said she also works with a patient's family just as much, depending on the patient's chronic condition, and previously did this type of work with another company.
She said that many of the patients she talks to are like family.
"... If I don't call them, they call me," she laughed.
While the phone calls from nurses can be social in nature, Tidwell said there is more intention beyond checking in and catching up.
"They're specifically calling to help them manage the chronic conditions that they have," he said. "If it's chronic obstructive pulmonary disease (COPD), they're calling with a set of questions … to assess how the patient is doing with regard to that condition."
If the nurse receives information that indicates the patient isn't doing well, Tidwell said the service helps the nurse advocate for the patient to be seen to address any issues or concerns.
"(The nurses) do become a good source of access for the patient to interact with their primary care doctor," Tidwell said. Wayman said the position also allows her to put on her "social worker hat."
"I make sure they have transportation when there's issues and that they have enough money for food," she said. "I'm not the resource, but I know the resources to send them to, and I give them the numbers; I don't do it for them, because I like  to empower (them) …."
Wayman said some calls may also dive into the spiritual side. "We have church a lot on the phone …," she said. The program also helps patients have a more streamlined experience with OH.
"There's obvious benefits to the patient, but then there are more subtle benefits,  which includes the fact that they now have somebody who knows them well," Tidwell said. "These patients are able to pick up the phone and get a voice on the other end from somebody who knows them well and can help them navigate the healthcare system.
"If there are any questions on (the patient's) end, I've observed that people will just call their nurse navigator. It may not be related to their chronic condition, but it may be (an inquiry of) 'How do I get in to see  a rheumatologist?' or 'Where do I go to have my mammogram?' "
"They really do have this friend within the walls of the healthcare system."
"It fulfills that need in me, because I just love to help," she said.
If interested in learning more about the program, Tidwell encourages prospective patients to speak with their primary care provider about the service and its qualifying criteria.
About Owensboro Health
Owensboro Health is a nonprofit health system with a mission to heal the sick and to improve the health of the communities it serves in Kentucky and Indiana. The system includes Owensboro Health Regional Hospital, nationally recognized for design, architecture and engineering; Owensboro Health Muhlenberg Community Hospital; Owensboro Health Twin Lakes Medical Center; the Owensboro Health Medical Group comprised of over 350 providers at more than 30 locations; three outpatient Healthplex facilities, a certified medical fitness facility, the Healthpark; a surgical weight loss center and program, and the Mitchell Memorial Cancer Center.
On average each year, we have more than 19,000 inpatient admissions, deliver 2,000 babies and provide the region's only Level III NICU. Owensboro Health physicians perform nearly 33,000 surgical procedures, including nearly 150 open-heart surgeries. Our physicians and staff have 90,000 Emergency Department visits and more than 1.25 million outpatient visits annually. Visit our home page for more information.