Published on May 25, 2023
OH Pleasant Valley Medical Office Building Earns Its Second ENERGY STAR Certification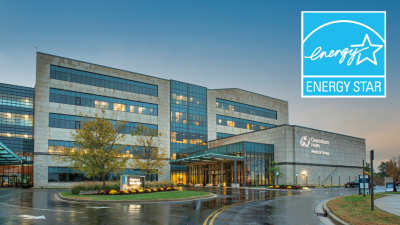 Owensboro Health has announced that the Pleasant Valley Medical Office Building in Owensboro, Kentucky, has earned the U.S. Environmental Protection Agency's (EPA) ENERGY STAR® certification for superior energy performance. This is the second year that the Pleasant Valley MOB has earned the ENERGY STAR, reflecting a legacy of continued energy savings.
"Improving the energy efficiency of our nation's buildings is critical to protecting our environment, " said Cindy Jacobs, Chief of the ENERGY STAR Commercial & Industrial Branch. "From the boiler room to the board room, organizations are leading the way by making their buildings more efficient and earning EPA's ENERGY STAR certification."
ENERGY STAR-certified buildings and plants are verified to perform in the top 25 percent of buildings nationwide based on weather-normalized source energy use that takes into account occupancy, hours of operation, and other key metrics. ENERGY STAR is the only energy efficiency certification in the United States that is based on actual, verified energy performance.
"We're honored to earn the ENERGY STAR for superior energy performance at the Pleasant Valley Medical Office Building and appreciate the efforts of everyone who has been involved in its efficient operation," said Owensboro Health President and CEO Mark Marsh. "Saving energy is just one of the ways we show our community we care, and that we're committed to doing our part to protect the environment and public health, both today and for future generations."
On average, ENERGY STAR-certified buildings and plants use 35 percent less energy, cause 35 percent fewer greenhouse gas emissions, and are less expensive to operate than their peers—all without sacrifices in performance or comfort. The Owensboro Health Pleasant Valley Medical Office Building was rated more energy efficient than 77 percent of similar properties nationwide.
Joe Taylor, Executive Director of Facilities at Owensboro Health, said, "Earning the Energy Star certification for the second year in a row at our Pleasant Valley Medical Building reinforces Owensboro Health's ongoing commitment to the 'Triple Aim of Healthcare: optimizing performance, reducing costs, and improving patient care.'" Taylor continued, " Every dollar we save in utility costs becomes available for direct patient care. For the medical building alone, this savings equates to approximately $234,000 over the last several years.  It's very exciting!"
To date, tens of thousands of buildings and plants across all fifty states have earned the ENERGY STAR. For more information about ENERGY STAR for Buildings and Plants, visit www.energystar.gov/buildings
About Owensboro Health
Owensboro Health is a nonprofit health system with a mission to heal the sick and to improve the health of the communities it serves in Kentucky and Indiana. The system includes Owensboro Health Regional Hospital, nationally recognized for design, architecture and engineering; Owensboro Health Muhlenberg Community Hospital; Owensboro Health Twin Lakes Medical Center; the Owensboro Health Medical Group comprised of over 350 providers at more than 30 locations; three outpatient Healthplex facilities, a certified medical fitness facility, the Healthpark; a surgical weight loss center and program, and the Mitchell Memorial Cancer Center.
On average each year, we have more than 19,000 inpatient admissions, deliver 2,000 babies and provide the region's only Level III NICU. Owensboro Health physicians perform nearly 33,000 surgical procedures, including nearly 150 open-heart surgeries. Our physicians and staff have 90,000 Emergency Department visits and more than 1.25 million outpatient visits annually. Visit our home page for more information.