Published on March 21, 2023
Owensboro Health, Kentucky Cancer Program Showcase "The Incredible Colon"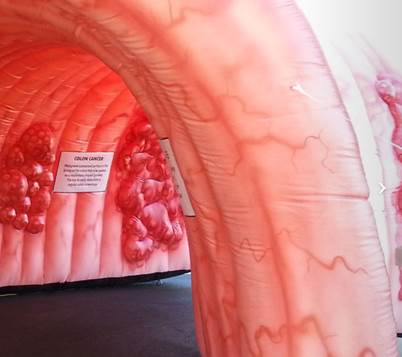 Owensboro Health is partnering with the Kentucky Cancer Program, using an inflatable exhibit to raise awareness of colorectal cancer.
The Incredible Colon, a 20-foot inflatable colon replica, will return to Owensboro Health Regional Hospital as part of this event. The exhibit was last on display at OHRH in March 2020 as part of the same effort to raise awareness of colorectal cancer.
Out of the top 10 cancers in Daviess County, Kentucky, colorectal cancer is ranked fifth in incidence (new cases) according to the Owensboro Health Cancer Registry. Colorectal cancer also ranks second in mortality (deaths) in Daviess County behind lung cancer. 
"These deaths could be greatly reduced if individuals were getting their age-appropriate screening in a timely manner," Tim Laugh, Director of Owensboro Health Mitchell Memorial Cancer Center, said. "Lung and colon cancers often go undetected since cancer symptoms do not present early. When patients present with symptoms, it is typically in the late stages when cancer is harder to cure. Screenings help by catching cancer early when it can be cured."
The Incredible Colon exhibit, which is free and open to the public, will take place from 8 a.m. to 4 p.m. on Wednesday, March 29. Visitors to the exhibit will be able to do the following:
Walk through the colon model
Learn how the colon works
Learn how colorectal cancer screening can prevent cancer entirely or catch it early, improving chances of survival
Ask an expert about ways to improve and maintain digestive health
"Events like this are important for a number of reasons," Laugh said. "It creates awareness, provides education and encourages participants to sign-up for screenings."
###
For more information about the Kentucky Cancer Program, contact Jaime Daniel, Cancer Control Specialist, (C) 270-570-1977, jaime.rafferty@louisville.edu or visit www.kcp.uky.edu.
Contact: Jacqueline Russell, Owensboro Health Marketing Specialist, 270-543-8368, Jacqueline.Russell@OwensboroHealth.org.
About Owensboro Health
Owensboro Health is a nonprofit health system with a mission to heal the sick and to improve the health of the communities it serves in Kentucky and Indiana. The system includes Owensboro Health Regional Hospital, nationally recognized for design, architecture and engineering; Owensboro Health Muhlenberg Community Hospital; Owensboro Health Twin Lakes Medical Center; the Owensboro Health Medical Group comprised of over 200 providers at more than 20 locations; three outpatient Healthplex facilities, a certified medical fitness facility, the Healthpark; a surgical weight loss center and program, and the Mitchell Memorial Cancer Center.
On average each year, we have 16,000 inpatient admissions, deliver 2,000 babies and provide the region's only Level III NICU. Owensboro Health physicians perform nearly 24,000 surgical procedures, including nearly 200 open-heart surgeries. Our physicians and staff have 70,000 Emergency Department visits, more than a million outpatient visits annually. Visit our home page for more information.