Published on November 09, 2023
Owensboro Health's Pastoral Care Prioritizes Emotional, Spiritual Well-being
By Freddie Bourne Messenger-Inquirer 
Nov 9, 2023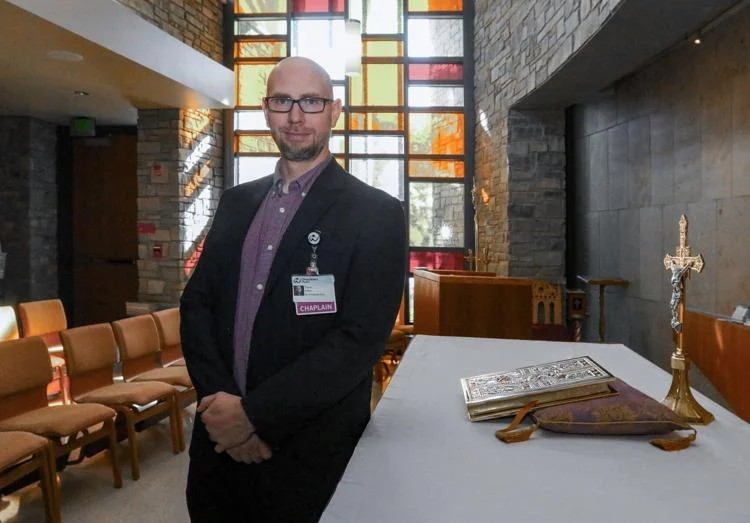 While the medical staff at Owensboro Health actively help patients and their loved ones through physical health circumstances, its pastoral care sector seeks to provide spiritual and emotional guidance throughout the process.
"We are film believers in the idea of holistic care," said Travis Williams, M. Div., BCC, director of pastoral care. "While our certain specialists in the hospital are helping people to meet their physical needs, we recognize that how you are working with that in your mind, and in your emotions and in your spirit really has a huge impact on both your treatment while you're here, and the success of that, and when you leave from here."
Williams, who has been OH for two years, previously worked as a market manager for spiritual care and volunteer services for a healthcare system in Tucson, Arizona, and formally as chaplain for another health entity in Wilmington, North Carolina.
Williams said working within the healthcare realm, as opposed to the typical church clergy, allows him to respond to people in real-time and build intentional one-on-one connections.
"I think it provides an opportunity to minister to people in times of need and to directly deal with supporting them in their situation without having to be as concerned with some of the other aspects that go into the care you (may) need to provide in a church setting, " Williams said. "It basically just frees you up to do more supportive work in times of urgent need.
"We kind of get to be the first responders, so to speak, of the pastoral world," Williams said, "and as a result, we're able to have access to supporting patients in a lot of settings that a lot of people normally wouldn't get to."
Williams also has a personal connection that led him to this career.
"I remember when I lost my parents at a younger age (and) how difficult that was," he said. "That was a large motivator for me wanting to work in the healthcare field — to support other people who are going through difficult lifestyle situations."
Williams said the reach also extends to those close to the patients, such as family members and even the staff members that are present every day.
"(The staff is) working in really complex, and tiring and difficult situations (and we) want to support them in the moment … and to really understand more thoroughly what they go through and to meet them on the level they're at and build relationships with them in that way," Williams said.
The holiday season can be one of the most challenging times, he said.
"Coming up now with Thanksgiving, Hanukkah, Christmas and New Year's — those can be particularly difficult for people for a whole variety of reasons," Williams said.
The holidays can trigger emotions associated with loss of any kind — whether the death of a loved one, no longer having employment or the ending of a marriage or relationship — that may change how one typically celebrates the season.
"Anytime that it doesn't look the way you want it to, that creates a dissonance (and) an uneasiness," he said. "It can create anxiety, and that can also lead to depression because people don't feel that they can have the resources to cope with it or they don't have the guidance or the awareness on how to navigate through those emotions."
Williams said he and his colleagues in pastoral care do their best to make it easier to navigate by taking the time to listen.
"What we try to do as chaplains is to take the time to sit with the patients (and) the family members and learn about their stories, and learn about what matters to them, what is impacting them, learn about what they need … and seeing if there's ways we can encourage them to utilize those well- being, self-care resources that they have or interventions that work for them … to help them feel strengthened and empowered in their times of need," he said.
OH has two chapels for people to utilize — Mercy Chapel of Hope at the Owensboro Health Regional Hospital, and Healthpark Chapel inside the Owensboro Health Healthpark facility on Ford Avenue. Mercy Chapel is open 24/7 and includes a priest that holds Mass at noon every day with the exception of Thursday.
"Sometimes they just need a place to go, and be still and recenter themselves and restore themselves from the moral injury they might (be experiencing)," he said.
Williams wants people to know "they are not alone" and do not need to be affiliated with a specific religion to ask for help.
"One of the beauties about being a chaplain in the hospital is that we can provide spiritual care, and I think everyone has a sense of spirit within them," he said. "It doesn't have to be tied into a specific religion. I think most people would agree that there are things within them that they would say are their sense of inner-self.
"When that is damaged or impacted, they need that spiritual care like they would need that physical care," Williams said. "... As we learn about the person's spirit and we're able to go through those assessments and learn what skills they have and what things they value, we can definitely try to integrate that into a person's care and make sure (those) things are being considered."
For more information about upcoming special holiday services, visit Owensboro Health's Facebook at facebook.com/owensborohealth.
For more general information about Owensboro Health's pastoral care, visit owensborohealth.org/services/pastoral-care or email pastoralcare@owensborohealth.org.
About Owensboro Health
Owensboro Health is a nonprofit health system with a mission to heal the sick and to improve the health of the communities it serves in Kentucky and Indiana. The system includes Owensboro Health Regional Hospital, nationally recognized for design, architecture and engineering; Owensboro Health Muhlenberg Community Hospital; Owensboro Health Twin Lakes Medical Center; the Owensboro Health Medical Group comprised of over 350 providers at more than 30 locations; three outpatient Healthplex facilities, a certified medical fitness facility, the Healthpark; a surgical weight loss center and program, and the Mitchell Memorial Cancer Center.
On average each year, we have more than 19,000 inpatient admissions, deliver 2,000 babies and provide the region's only Level III NICU. Owensboro Health physicians perform nearly 33,000 surgical procedures, including nearly 150 open-heart surgeries. Our physicians and staff have 90,000 Emergency Department visits and more than 1.25 million outpatient visits annually. Visit our home page for more information.