Published on June 02, 2023
Spring Semester Vicki M. Stogsdill Nursing Award Recipient
Harley Slaughter is this year's Spring Vicki M. Stogsdill Nursing Award recipient.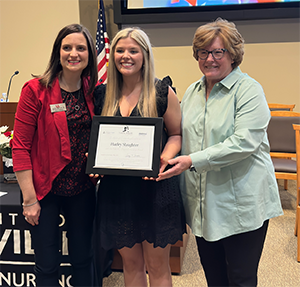 Harley said she wanted to work in healthcare because she felt very drawn to the profession. "As a child, I grew up around policemen, firefighters and EMS," she said. "This sparked my interest in healthcare in general because I loved that they would help others out of the kindness of their hearts, even if they did not know the person. I saw the opportunity for personal growth and development and knew that it would be a good career choice for the long term."
It only took a year of pursuing an education in agriculture for her to realize she wanted to pursue nursing.  She attended Owensboro Community College to get her pre-requirements for the University of Louisville School of Nursing Owensboro Extension. Her nursing career began as an SRNA on the Ortho-Neuro unit at Owensboro Health Regional Hospital, where she worked for two years before becoming a medical assistant at Urgent Care Ford. She later became a Nurse Extern in the NICU and now works there as a registered nurse.
"I absolutely love my job," Harley said. "I get to comfort parents during the transition to life and guide them as some become parents for the first time."
The nursing student was honored to win this semester's award. 
"It feels amazing and an honor to win the award because I know that my hard work and dedication for the last two years paid off," she said. "As a first-generation college student, school and life combined was not easy so receiving this award gives me more confidence in myself to know that others believe in me as well. I know there were several great candidates, but I am honored to be chosen as this year's recipient."
The award was presented to Harley at a Senior Celebration on May 4, 2023.
Learn more about the Vicki M. Stogsdill Nursing Award and its application process.
About Owensboro Health
Owensboro Health is a nonprofit health system with a mission to heal the sick and to improve the health of the communities it serves in Kentucky and Indiana. The system includes Owensboro Health Regional Hospital, nationally recognized for design, architecture and engineering; Owensboro Health Muhlenberg Community Hospital; Owensboro Health Twin Lakes Medical Center; the Owensboro Health Medical Group comprised of over 350 providers at more than 30 locations; three outpatient Healthplex facilities, a certified medical fitness facility, the Healthpark; a surgical weight loss center and program, and the Mitchell Memorial Cancer Center.
On average each year, we have more than 19,000 inpatient admissions, deliver 2,000 babies and provide the region's only Level III NICU. Owensboro Health physicians perform nearly 33,000 surgical procedures, including nearly 150 open-heart surgeries. Our physicians and staff have 90,000 Emergency Department visits and more than 1.25 million outpatient visits annually. Visit our home page for more information.