Published on January 30, 2023
Staying Social: OH's Connections Emphasizes Interaction, Overall Wellness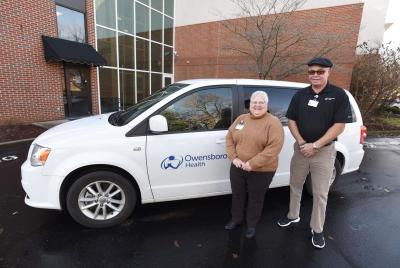 By Freddie Bourne Messenger-Inquirer
It was over 30 years ago that Melinda Cornell became part of the Owensboro Health system, working in the psychiatric unit as a social worker who found joy working with older adults, when a new supervisor asked for help developing a focused program for the specific age-group.
At the time, there were two local hospitals, Owensboro-Daviess County Hospital and Mercy Hospital, with the latter already having its own dedicated older adult program. By the time the merger came around in 1995, Golden Partners was born. That program recently changed its name to Connections. The standalone program, which is housed in the OH Healthpark at 1006 Ford Ave., is designed for adults 55 and older who are looking to "maintain wellness throughout their lives" through educational offerings, wellness programs, social activities, travel opportunities and more.
The name change felt like the right fit, Cornell said. "We connect people," she said. "We're connecting people to better health through socialization, education, wellness, fitness and travel." When the program first started, Cornell's plan was to "take care of everyone" before pivoting some of the focus based on the feedback from participants who were interested in more social programming. "We were going to have all these programs related to health issues and we were going to fix them all, they were all going to be very healthy," Cornell said. "It didn't take long to find out that's not what they wanted. They were not interested in me telling them about how to take care of their cholesterol, or how to lower their blood pressure; that was not of interest to them at all.
"I think for the socialization part, it is about connecting with others. … We have people that come an hour early for a program, and it's not because they want you to start the program early; they're coming because they want to socialize with someone else. You can see their whole demeanor change. "We try to bring people in, whether it be in large groups or whether in small groups, just to have some interaction with other people," Cornell said. One of the most popular offerings is the travel program. "I put together day trips; I put together overnights — there may be one overnight all the way up to five, six to seven nights — as well as international trips," she said. "We (have offered travel to) six of the seven continents, and we have also been to all 50 states."
Cornell has also offered a Kentucky travel series, visiting places such as the state capitol in Frankfort and the National Corvette Museum in Bowling Green. Additionally, she hosts an annual mystery tour, where participants don't know the destination until "we land in that one city on our way." The Connections program offers a van service, which is designed to provide non-emergency transportation to and from medical appointments for those that live within the city limits and are over the age of 18 unless accompanied by an adult. For John Howard, one of the drivers, it provides opportunity beyond getting people from place to place. "The families need somebody to talk to, and it's very enjoyable," he said. "They will tell you their life story. … I tell Melinda (sometimes) I feel like Dr. Phil driving around in the van." Getting to know the riders is "one of the best parts of my job," he said. "I like talking to people," Howard said. Participants are starting to readjust after the changes caused by the coronavirus pandemic. "Some adapted very well (with) staying home. … They would go out alone for walks and things like that," she said. "But when we started our program back, you (could) definitely see a change in their physical health, as well as their mental health — and it took a toll on them." Cornell and Howard said they hope the program serves as a bright spot in someone's day. "I love making things fun no matter where I am," Cornell said. "For me, I try to make everything be as if that was going to be the last event they came to or the only event they ever get to come to; and when they leave here, they feel like, 'Wow, that was so fun. I want to go back.' ... It makes me feel good to see someone leave with a smile on their face."
For more information on the Connections, including membership and rider requirements for the van service, visit OwensboroHealth.org/Connections or call 270-688-4855.
Those looking to utilize the van service do not need to be a member of the Connections program.
About Owensboro Health
Owensboro Health is a nonprofit health system with a mission to heal the sick and to improve the health of the communities it serves in Kentucky and Indiana. The system includes Owensboro Health Regional Hospital, nationally recognized for design, architecture and engineering; Owensboro Health Muhlenberg Community Hospital; Owensboro Health Twin Lakes Medical Center; the Owensboro Health Medical Group comprised of over 350 providers at more than 30 locations; three outpatient Healthplex facilities, a certified medical fitness facility, the Healthpark; a surgical weight loss center and program, and the Mitchell Memorial Cancer Center.
On average each year, we have more than 19,000 inpatient admissions, deliver 2,000 babies and provide the region's only Level III NICU. Owensboro Health physicians perform nearly 33,000 surgical procedures, including nearly 150 open-heart surgeries. Our physicians and staff have 90,000 Emergency Department visits and more than 1.25 million outpatient visits annually. Visit our home page for more information.