Published on January 11, 2023
Volunteer Auxiliary Funds Infant Transportation Carts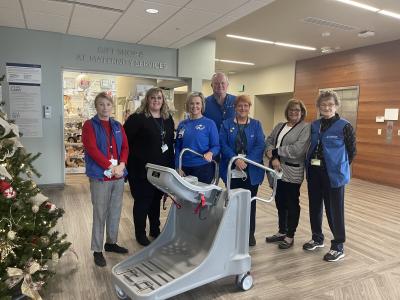 Owensboro Health Volunteer Auxiliary recently funded a project that will assist new parents as they're discharged from the Owensboro Health Regional Hospital with their newborn. 
Maternity Services leadership noted that parents with a newborn typically have an infant carrier
and a lot of belongings to carry with them. To alleviate this issue, the volunteer auxiliary funded six infant carts that safely dock the baby and carrier, accommodate all their belongings and make moving through the facility safe and convenient.
Four of the six carts even allow the parent to push the cart while in a wheelchair, with the baby and belongings riding on the cart. 
While most of the carts will be used in maternity services, one is available in the main hospital lobby, so new mothers who visit the facility do not have to bear all the weight of a baby carrier. 
Volunteers gathered on December 5 to celebrate the achievement and place "presented to OHRH by the Volunteer Auxiliary" plaques on the carts, which have been well-utilized since they debuted in December. Owensboro Health thanks the Volunteer Auxiliary for their generosity. 
About Owensboro Health
Owensboro Health is a nonprofit health system with a mission to heal the sick and to improve the health of the communities it serves in Kentucky and Indiana. The system includes Owensboro Health Regional Hospital, nationally recognized for design, architecture and engineering; Owensboro Health Muhlenberg Community Hospital; Owensboro Health Twin Lakes Medical Center; the Owensboro Health Medical Group comprised of over 350 providers at more than 30 locations; three outpatient Healthplex facilities, a certified medical fitness facility, the Healthpark; a surgical weight loss center and program, and the Mitchell Memorial Cancer Center.
On average each year, we have more than 19,000 inpatient admissions, deliver 2,000 babies and provide the region's only Level III NICU. Owensboro Health physicians perform nearly 33,000 surgical procedures, including nearly 150 open-heart surgeries. Our physicians and staff have 90,000 Emergency Department visits and more than 1.25 million outpatient visits annually. Visit our home page for more information.