Cancer Care Team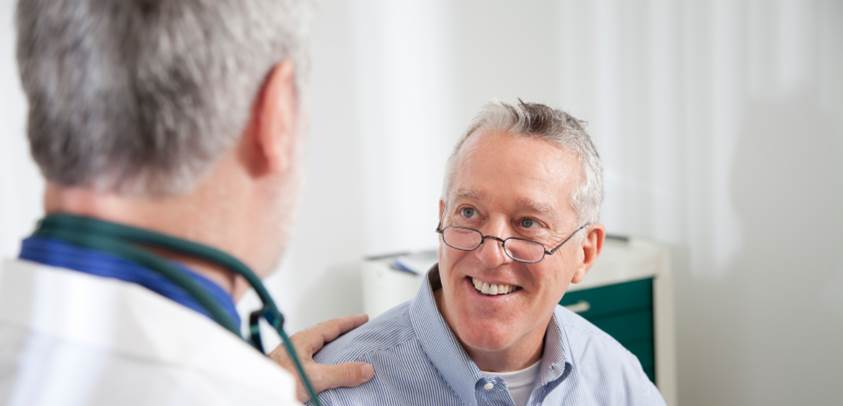 Fighting cancer is easier when you get help from a multidisciplinary team of health-care professionals. That's why Owensboro Health gives you access to a broad range of cancer specialists dedicated to your success.
Your Oncology Team Members
Your doctors meet regularly at tumor conferences to evaluate your condition and use their combined expertise to develop an informed treatment plan tailored to you. They're part of a team that may include:
Medical Oncologists: Specialize in chemotherapy, biotherapy and other cancer medications
Radiation Oncologists: Treat cancer with radiation therapy
Cancer Surgeons: Remove tumors and perform biopsies
Pathologists: Assess whether a sample of your tissue contains cancer cells
Plastic Surgeons: Help restore your physical appearance after cancer treatment, especially mastectomy
Cancer Registrars: Play a significant role in collecting important information that impacts cancer research and treatment programs
Certified Lymphedema Therapists: Manage swelling that may result from cancer or cancer treatment
Certified Medical Dosimetrists: Work with the radiation oncologist to plan radiation treatments that treat cancer and other illnesses
Certified Medical Physicists: Ensure optimal equipment performance, patient treatment accuracy and compliance to state and federal agencies.
Dedicated Oncology Pharmacists: Prepare your medication and cancer treatment
Pharmacy Oncology Specialists: Specially trained in oncology and work closely with your oncologist to ensure best practices
Financial Advocates: Work with patients to find available financial assistance
Genetic Counselor: Helps you and your family understand your inherited risk of cancer, coordinate genetic testing and determine what screenings and preventive techniques would benefit you 
Oncology Certified Nurses: Care for you before, during and after treatment
Oncology Counselor: Assists you and your loved ones in coping with your condition
Pastoral Care: Gives you spiritual and emotional guidance
Patient Navigators: Oncology Certified RNs that offer individualized assistance to patients, families and caregivers to help overcome any healthcare system barriers while providing education and support.
Patient Registration Representatives: Some of the first people you will encounter at our front desks
Physical Therapists: Assist you in gaining strength, energy and mobility during or after treatment
Radiation Therapists: Responsible for administering radiation treatment
Registered Dietitians: Guide you in choosing nutritious, easy-to-eat foods
Social Workers: Ensure patients have the physical and emotional support they need during their cancer journey
Speech-Language Therapists: Teaches you how to communicate and swallow better, especially after cancer affecting your mouth or neck
Learn more about these teams: 
Cancer Registrars
Information from a patient's cancer journey can provide valuable knowledge that can help cancer specialists determine the most effective treatments for newly diagnosed patients. Cancer registrars play a significant role in collecting important information that impacts cancer research and treatment programs.
Cancer registrars are responsible for collecting data such as a complete history, diagnosis, treatment and health status for every cancer patient. This data provides essential information to researchers, healthcare providers, and public health officials to better monitor and advance cancer treatments. It helps improve cancer prevention and screening programs as well as how to conduct research. All the data collected is analyzed and published without patient identifiers.
How the data is used:
Calculate cancer incidence
Evaluate effectiveness of treatment modalities 
Determine survival rates
Develop targeted educational and screening programs
Owensboro Health cancer registrars are certified by the National Cancer Registrars Association. They maintain credentials by fulfilling continuing education requirements.
Dosimetrists / Medical Physicists
Dosimetrists and medical physicists work with the radiation oncologist to plan radiation treatments that treat cancer and other illnesses. They ensure optimal equipment performance by running/reviewing quality assurance checks daily, monthly and annually.
What do they do?
Design computerized treatment plans
Calculate radiation dose, location and energy level of the beam according to the radiation oncologists prescription
Ensure safe and effective use of radiation in compliance with the state and federal regulations and standards established by the American College of Radiology (ACR) and the American Association of Physicists in Medicine (AAPM)
Run quality assurance checks on all the treatment plans developed for patients.
Owensboro Health medical dosimetrists are certified by the Medical Dosimetrist Certification Board, while the medical physicists are certified by the American Board of Radiology. Both maintain credentials by fulfilling continuing education requirements.
Oncology Pharmacists
The Pharmacy Oncology Specialist is a specially trained pharmacist in oncology. This pharmacist has received additional years of training focused on oncology. The specialist will work closely with the oncologists to ensure best practices are used to provide the highest quality of care. This pharmacist can also educate patients on their therapies.
The Dedicated Oncology Pharmacists will review each medication order prior to preparation to ensure it is appropriate based on the patient's condition and lab work. These pharmacists will validate the medication is prepared appropriately including dosage, concentration and using sterile techniques.
Patient Navigators
An oncology nurse navigator is a registered nurse with extra training in cancer care. Our Nurse Navigators are Oncology Certified Nurses (OCN) and they offer individualized assistance to patients, families, and caregivers to help overcome any healthcare system barriers and provide education and support.
Ways the nurse navigators assist patients:
Serve as a patient support/liaison
Help patients keep track of their appointments- coordinate care and streamline appointments for quicker treatment
Provide education regarding cancer treatment, follow-up care and survivorship plan

Visits with patient throughout treatment to ensure patient is receiving resources they need and that their questions are answered

Identify any barriers to care or specific needs, such as finances, transportation, language, or fear/anxiety and make referrals to appropriate resources for assistance.
You will likely meet with your nurse navigator regularly throughout your treatment. You may also receive follow up calls from the nurse to discuss your appointments, questions, or any concerns you may have regarding your cancer care. You are also welcome to call your navigator if you have specific concerns. Your Nurse Navigator will coordinate with your physician and other members of your treatment team to ensure you receive excellent care.
Patient Registration Representatives
The patient registration representatives are some of the first people you will encounter in Radiation Oncology. They initially schedule your appointments with the healthcare team after you are referred. They will acquire all the necessary records for the healthcare team prior to your visit to ensure excellent patient care is being achieved.
Upon arrival at the Cancer Center the patient registration representatives will verify your insurance information and direct you to the appropriate waiting areas for your appointment type. 
How do they help?
Teach patients how to use the self-check kiosk
Answer all phone calls and transfer them to the appropriate locations
Make follow-up appointments to see radiation oncologists after treatments are completed
Print After Visit Summaries 
Help patients register for MyChart
Pharmacy Financial Advocate
The Pharmacy Financial Advocate focusses on finding financial assistance for our patients. Opportunities include co-pay assistance and free medications for qualified patients. The Pharmacy Financial Advocate will meet with patients to assist in the completing appropriate forms to submit for financial assistance.
Radiation Therapists
Healthcare professional responsible for the administration of ionizing radiation at therapeutic levels under the direction of radiation oncologists.
Key Tasks:
Perform simulations and construct immobilization devices to begin treatment process
Instruct patients on maintaining skin marks, and special treatment requirements
Achieve precision patient alignment using imaging and external markings
Watch and listen to patients during treatment to ensure their safety
Schedule, monitor and assess patient throughout treatment coarse
Perform quality assurance checks daily on treatment units, etc. for patient safety
Explain what to expect while in the treatment room and answer questions about treatments
Radiation therapist here at Owensboro Health are certified by the American Registry of Radiologic Technologists (ARRT).  They maintain credentials through strict continuing education requirements.  They are also licensed to operate radiation therapy equipment by the Kentucky Board of Medical Imaging and Radiation Therapy (KBMIRT).
The radiation therapists here at Owensboro Health have a combined total of almost 200 years of experience. They work with the radiation oncologists, nurses, medical physicists and medical dosimetrists and other health care professionals to provide excellent care for patients.
Social Workers
Oncology Social Workers are knowledgeable about cancer and the effect it has on individuals and their families. Social Workers are available to assist individuals in adjusting to life changes as they face a cancer diagnosis and the effects of disease, treatment and survivorship. Social workers want to ensure patients have the physical and emotional support they need during their cancer journey.
Services may include:
Assess patients in need of social work services
Assist patients with financial, transportation, and other needs
Advocacy to remove barriers to care
Active members of patients' multidisciplinary care team
Assist patient is obtaining Durable Medical Equipment (DME)
Educate patient on available oncology specific resources
Connect patient to community resources
Specialized Oncology Nurses
Specially trained nurses work closely with the healthcare team to ensure patient needs are met while under the care of their oncologist(s). These special nurses fill roles in navigation, radiation and infusion administration. Oncology nursing staff members are licensed by the Kentucky Board of Nursing and fulfill continuing education requirements. Eligible nursing staff members also maintain Oncology Certified Nurse (OCN) certification. All chemotherapy infusion nurses are also biotherapy and chemotherapy certified. Together, staff members have more than one hundred years of nursing experience.
What do oncology nurses do?
Teach, reinforce and/or review patient education materials
Do routine assessments before treatments start and throughout course of treatment
Answer questions regarding care and side effects
Provide a large range of services for distress-treatment and help with practical matters
Make referrals to other experts as ordered by physicians
Keep current on radiation, chemotherapy/biotherapy and/or surgical approaches for cancer treatments
Educate patients and families about procedures