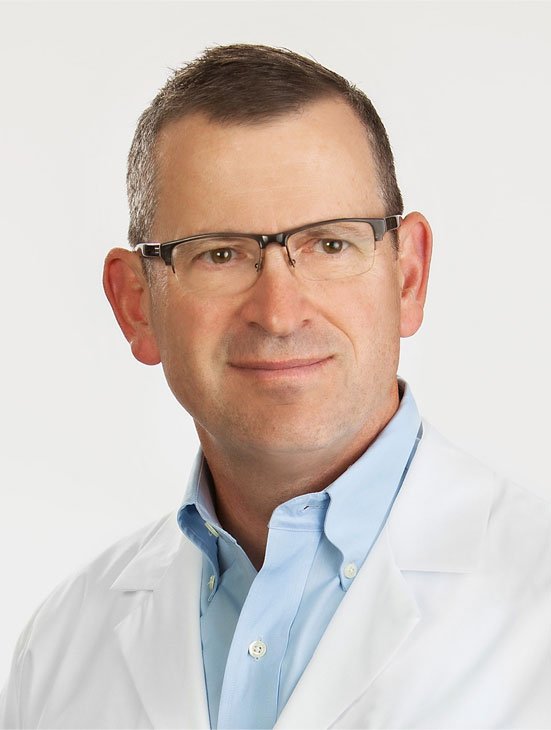 Chris Glaser, MD, FACS
Specializing in
General Surgery
Affiliation: Owensboro Health
Biography
Dr. Chris Glaser joined Owensboro Health Surgical Specialists (then known as Ohio Valley Surgical Specialists) in 1993, which later became part of the Owensboro Health Medical Group in 2013. He is a second-generation physician and former chief of surgery at Owensboro Health Regional Hospital, formerly Owensboro Medical Health System.
Dr. Glaser is nationally recognized for his pioneering the use of the BioZorb™ Tissue Marker, which is an innovative implantable surgical device that allows more precise administration of radiation therapy in women being treated for breast cancer. He is also one of the few surgeons in the country that performs oncoplastic surgery, which involves not only removing a tumor but also restoring the form and appearance of the breast. This often eliminates the need for further reconstructive surgeries. Additionally, Dr. Glaser teaches these new techniques to other surgeons at national and international conferences, including the American College of Surgeon's Clinical Congress, held in Chicago in October 2015.
Dr. Glaser is a native of Louisville and a graduate of St. Xavier High School. He and his wife Jennifer have three children, Caitlin, Margaret and Christopher. 
Personal Quote
"Surgery is the only medical discipline where you are actually able to cure a patient of their disease as opposed to helping their body accommodate their disease."
Education & Training
Education
University of Louisville, School of Medicine
Residency
Medical College of Wisconsin

,

Administrative Chief Resident
Internships
Medical College of Wisconsin
Board Certified
American Board of Surgery
Fellow American College of Surgeons
Additional Information
Commitment Statement
"When I treat a woman for breast cancer, my goal isn't just to save her life. My goal is to help ensure that she is as happy and confident with her appearance, or even more, than she was before. The options for treating breast cancer are expanding and I am proud to be using the most advanced surgical methods." 
A patient's message
Read the messages sent to Dr. Glaser on National Doctors' Day.
"Dr. Glaser, I have come into your office twice with an uneasy feeling and both times you have taken the time to thoroughly educate me while showing compassion and encouragement (which can go such a long way). You also did a wonderful job with my cholecystectomy and I had a much quicker recovery then I expected! I hear other patient's bragging on you all the time in regards to your knowledge along with your great bedside manner. You are more appreciated then you probably realize! I pray God blesses you in multitude of ways!" - Felicia
"Dr. Glaser, Thank you for your care this past year. You really helped reassure me as I went through my diagnosis, surgery and recovery that all was going to be fine. I really appreciate your skill and kindness not only for myself but also for all the other patients and staff you encounter. Thank you so much!" - Lisa
Publications
Dr. Chris Glaser has been featured in the November 2015 issue of MD Update magazine.
His use of a new 3D tissue marker and oncoplastic surgical techniques are improving the available breast cancer treatments in our region.