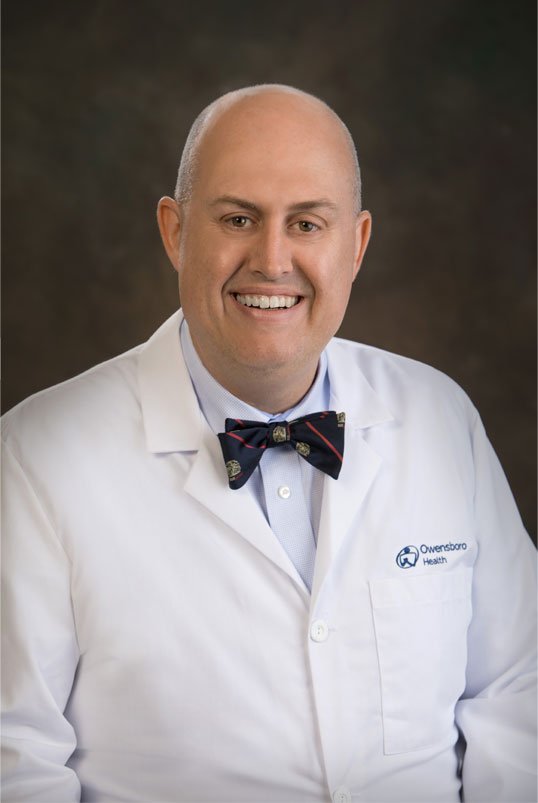 T. Chris Nebel, DO, FACS
Specializing in
General Surgery
Affiliation: Owensboro Health
Biography
Dr. Nebel is a full-scope general surgeon with an interest in the colon and colorectal problems both malignant and benign. Owensboro Health Surgical Specialists works closely with the Gastroenterology and Hepatology practice and their patients when surgery is needed. According to Dr. Nebel, "It's a team concept. No surgeon is an island."
As a general surgeon, Dr. Nebel is dedicated to providing the best surgical methods, including minimally invasive procedures, and enhanced recovery techniques. These methods help patients by making surgeries easier and recovery times shorter, so his patients can get back to living and loving life.
Dr. Nebel joined Owensboro Health Health Surgical Specialists (previously known as Ohio Valley Surgical Specialists) as a general surgeon in 2011 and the medical group in 2013. "This was the one and only place I had to interview at, and I knew it was the place as soon as the interview was over."
Dr. Nebel sees patients at the Owensboro office. He also has staff privileges at Owensboro Health Regional Hospital, Owensboro Surgery Center and Perry County Memorial Hospital.
Personal
Dr. Nebel is a Georgia native and a cancer survivor. "As somebody who's been there, to be able to share empathy I think is one of the most important traits that a physician can have. People talk about being a good listener and communicator. But someone who shows empathy helps the patient feel better. I think the patients really respond to that."
He and his wife, Michelle, live in Owensboro and have three children, Jonas, Susannah and Abigail. 
Education & Training
Education
Nova Southeastern University, College of Osteopathic Medicine, Davie, Fla.
Residency
Good Samaritan Hospital, Cincinnati
Internships
Vanderbilt University Medical Center, Nashville, Tenn.
Board Certified
American Board of Surgery
Fellow, American College of Surgeons
Advanced Cardiac Life Support
Fundamentals of Laparoscopic Surgery (FLS)
Additional Information
A patient's message
Read the message sent to Dr. Nebel on National Doctors' Day.
"Dr. Nebel, thanks for being a part of my wellness. You have an excellent bedside manner, that puts a patient at ease. Always have a smile to give." - Maggie