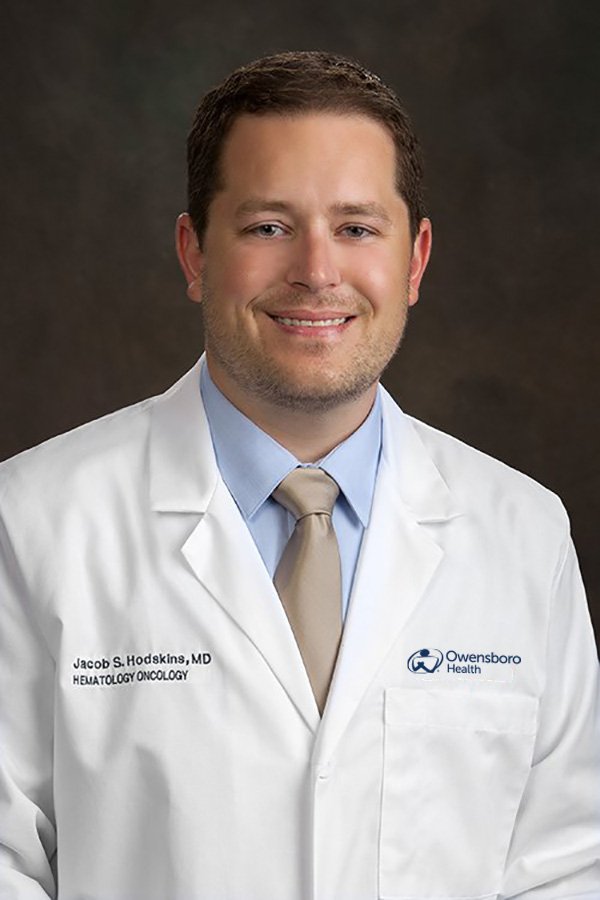 Jacob Hodskins, MD, MS
Specializing in
Hematology & Oncology
Accepting new patients
Referral required
Affiliation: Owensboro Health
Education & Training
Education
University of Kentucky

,

Master of Science, Medical Science, Physiology

University of Kentucky
Residency
University of Kentucky Department of Internal Medicine

,

Internal Medicine
Fellowship
University of Kentucky Department of Hematology

,

Bone Marrow Transplantation & Medical Oncology (Chief Fellow 2015-2016)
Internships
University of Kentucky Department of Internal Medicine

,

Internal Medicine
Board Certified
American Board of Internal Medicine, Internal Medicine
American Board of Internal Medicine, Medical Oncology
American Board of Internal Medicine, Hematology
Honors & Awards
<ul><li>General Clinical Research Center Mentored Student Award Grant </li> <li>Dr. R. Todd and Patricia Sweeney Scholarship </li> </ul>
General Clinical Research Center Mentored Student Award Grant 
Dr. R. Todd and Patricia Sweeney Scholarship 
Additional Information
A patient's message
Read the messages sent to Dr. Hodskins on National Doctors' Day.
"Danny and I would like to give a big thank you to Dr. Hodskins. He has been Danny's cancer doctor for over a year now. Danny has been through a lot over the past year and is still going through a lot with different health issues including cancer. I have never seen a Doctor who shows as much compassion and caring as he does. I am sure the other cancer doctor's are very good too, but I am thankful and grateful that we were blessed to have him on Danny's case. Thanks so much." - Mr. and Mrs. Danny W.
"Dr. Hodskins, thank you for the wonderful care and your personal attention. You have gone above and beyond on several occasions. You are much appreciated." - Dennis
"Thank you Dr. Hodskins & Dr. Ryan Able & all the crew & staff for working as hard as you can too save my life & prolong my life with cancer. You both are outstanding doctors & I think the world of you both & all the dedicated work you are & have given too me & the wonderful staff & nurses for everything that you're doing!!! The staff of nurses are & have been awesome to me!!! Thanks sooooo much!!!!" - Richard
"Dr. Hodskins. Well I do not know where to begin. He is one of the most caring professionals I have ever meet. He has shown me that there are people in his field that care. Each visit when I exit him I say please don't give up on me. His answer is I will not. I am fighting a battle in my health. And he is fighting the battle to help me. If for some reason they would say you cannot see him anymore I truly believe that I would just give up. Until only recent I had never been to see many doctors. But I truly thank God each and every day for him. And I sincerely believe if there were more people in his field that cared the way he does then the medical field would be far greater. I believe in you Dr. Hodskins. Trust and admire you and give thanks each day that you are my doctor. May God bless you and your sincere efforts. I love you for being you." - Bruce
"Thank you for being such a very caring doctor to me and listening to me when I have questions and taking time to answer them." - Judy
"Thanks for you excellent care and concern throughout my cancer journey. I feel I chose the best place and best doctor possible. Thank you and God bless you!" - Lisa
"My family and I thank you for your immediate and life-saving treatment of my stage-four lung cancer. I doubt that I would be alive today if you had not reacted in such a pro-active and aggressive manner and started treating the cancer right away. Two years later and I am cancer-free. I continue under your care today and am confident that you will always look after me." - Sarah
Publications
Comprehensive genomic profiling (CGP) at an NCI-designated cancer center reveals a high frequency of clinically relevant genomic alterations (CRGA) but identifies significant barriers to implementing genomically directed therapy (GDT).  ASCO epub 2016.
Hodskins JS, Fleischman R.  Ibrutinib-Associated Autoimmune Hemolytic Anemia. Blood 2014 124:5671.
Marty Driesler Lung Cancer Project: Cancer Incidence and Survival in Screened and Unscreened Populations. Markey Cancer Center Research Day 2014
Glioblastoma: Improving Therapy on a Formidable Disease.  Markey Cancer Center Affiliate Network Presentation 2014
Chen L, Romond E, Chokshi S, Saeed H, Hodskins J et al.  A prognostic model of early breast cancer relapse after standard adjuvant therapy and comparison with metastatic disease on initial presentation.  Breast Cancer Res Treat. 2012 Nov;136(2): 565-72
Aryal S, Hodskins JS, Adkins D.  Diffuse Alveolar Hemorrhage in a Patient with Hepatitis C.  Am J Respir Crit Care Med 185; 2012:A6168
Kasarskis EJ, Hodskins JS, St. Clair WH. Unilateral parotid electron beam radiotherapy as palliative treatment for sialorrhea in amyotrophic lateral sclerosis. J Neurol Sci. 2011 Sep 15;308(1-2); 155-7.
Hodskins JS, Kasarskis EJ. Effects of NIPPV on Energy Expenditure in ALS. 2007 Jul. (Completed/Accepted Research Protocol)
Sporici RA, Hodskins JS, Diamond SE, et al. Pit-1 B-domain Represses Anterior Pituitary Hormone Gene Expression. J Molecular Endocrinology. 2005 Oct; 35(2): 317-331.