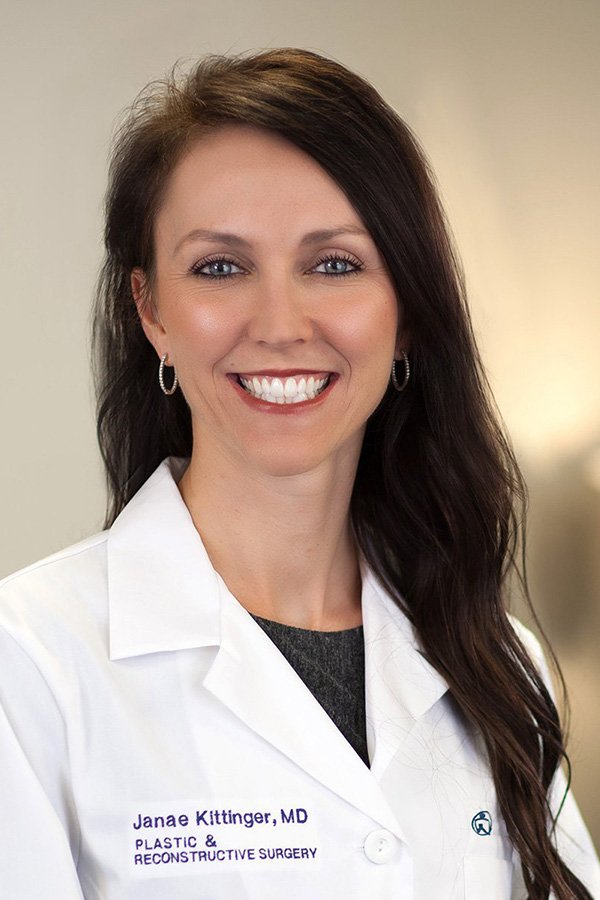 Janae Kittinger, MD
Specializing in
Plastic & Reconstructive Surgery
Affiliation: Owensboro Health
Biography
Dr. Janae Kittinger is a plastic and reconstructive surgeon at Owensboro Health. She brings the capability to perform a wide variety of reconstructive and cosmetic surgeries.
Dr. Kittinger, originally from Kansas, completed her bachelor's degree at Pittsburg State University in Pittsburg, Kansas, followed by medical school at the University of Kansas and plastic surgery residency at Texas A&M. Dr. Kittinger also has training and interest in microsurgical reconstruction and clinical outcomes research.
As a plastic surgeon, Dr. Kittinger will work on patients with needs ranging from reconstructive, medically necessary surgery from trauma or congenital defects to optional cosmetic surgeries related to aging and natural life processes.
Procedures
Cosmetic
Facelift
Brow lift
Upper/lower blepharoplasty (eyelid)
Neck lift
Rhinoplasty (nose)
Otoplasty (ear)
Breast lift (mastopexy)
Breast augmentation / reduction
Gynecomastia
Abdominoplasty (tummy tuck)
Liposuction
Medial thigh lift
Body contouring (following weight loss)
Fat grafting
Reconstructive
Head/neck cancer reconstruction
Breast reconstruction
Breast reduction
Chest wall reconstruction
Lower extremity reconstruction
Reconstructive surgery following trauma
Pressure sore reconstruction
Burns
Scar revision
Skin grafts
Trigger fingers
Carpal tunnel
Skin cancers/scalp/ears/face/hands
Excess skin upper eyelids
Ear
Wound care
Education & Training
Education
University of Kansas, School of Medicine
Residency
Texas A&M Health Science Center College of Medicine

,

Plastic Surgery
Board Certified
American Board of Plastic Surgery
Additional Information
A patient's message
Read a message sent to Dr. Kittinger on National Doctors' Day.
"Thank you so much for going above and beyond. Top notch results and care. Cancer takes so much away and you give so much back to the patient." - Stacey