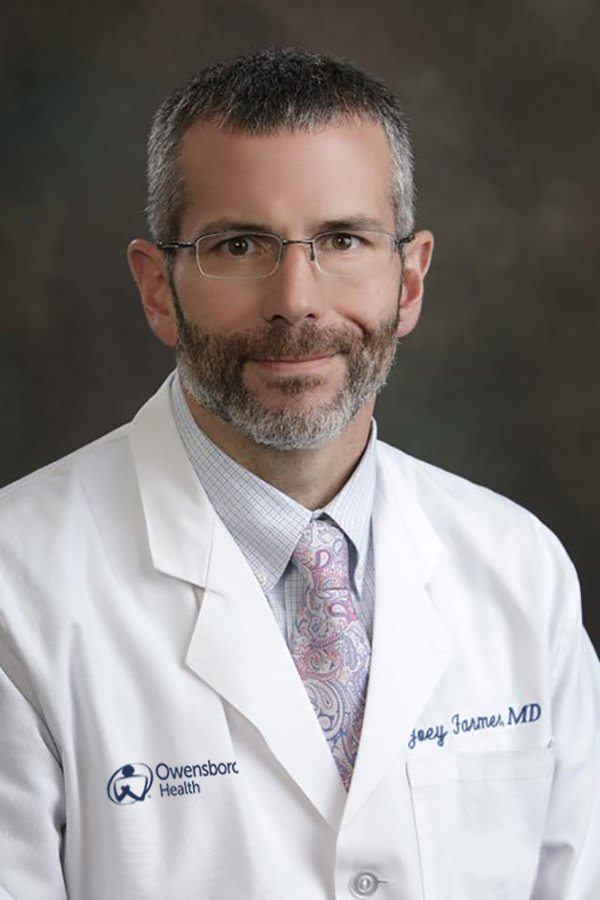 John Farmer, MD
Specializing in
Family Medicine
Affiliation: Owensboro Health
Biography
A patient's message
Read the messages sent to Dr. Farmer on National Doctors' Day.
"Dr. Farmer, thank you for being such an outstanding physician. I can always count on you to go that extra mile to listen to my complaints, moans, and groans. I not only consider you the best family practice doctor there is, but I also count you as a friend. You have been there when I needed to unload my life situations. Thank you so much! You seem to realize that all illnesses are not physical. My only regret is that you can't care for me when I am hospitalized! Keep up the good work and never forget to care about your persons as individuals." - Deborah
"Dr. Farmer, thank you so much for many years of excellent service. You are always kind and make sure that I have a full understanding before I leave the office and I appreciate that." - Barbara
"I am so thankful that I have a doctor who cares for me and his patients. Thank you Dr. Farmer for caring for me." - Emma
"Wayne and I would like to say "Thank you" and Happy Caregivers Day Dr. Farmer! God bless." - Vicky
"Thank you for your care for my husband and I for the last 19 years. You are the best!!" - Betty
"I just want to thank Dr. John Farmer on this special day for your exceptional care, dedication, communication and compassion for your patients. It means a lot to me that I have a PCP who knows his stuff and listens. Your professionalism is beyond measure. I am truly grateful and blessed to have you as my PCP, who has seen me at my worst and best. Your are the best! Happy Doctors Day!" - Mary
"Thank you for always taking the extra time and never busy to listen. We feel you're an excellent doctor and proud your our doctor. We feel we can talk toy and trust your judgment in whatever the need." - Kent and Lisa
"Dr. Farmer, thank you so much for being there for me, I do not know what I would have done without you at certain times in my life. We have be doctor and patient for almost 20 years and you have never let me down. You listen to me and that is so important. God Bless you as I know he has, thank You again." - Carol
Education & Training
Education
University of Louisville School of Medicine
Residency
Trover Foundation, Madisonville, Ky.
Internships
Trover Foundation, Madisonville, Ky.
Board Certified
American Board of Family Medicine