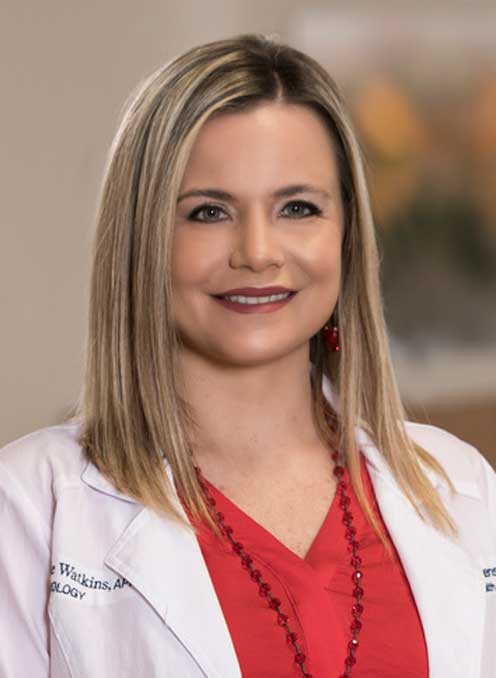 Katie Watkins, APRN, BSN, MSN, NP-C
Specializing in
Cardiology
Affiliation: Owensboro Health
Education & Training
Education
Frontier Nursing University

,

Master of Science, Nursing
Board Certified
American Academy Of Nurse Practitioners
Additional Information
Q: Why did you choose cardiology?
A: I decided to specialize in cardiology because of its complexity and the impact that heart health has on every body system.
Q: Why did you choose Owensboro Health Muhlenberg Community Hospital (OHMCH)?
A: This is my home and has been for 34 years. I love Muhlenberg County and feel like it is an honor to be able to serve my family and friends and the community where I grew up.
Q: Is a referral required, or can patients make appointments directly?
A: We do get a lot of referrals, but patients may also make their own appointments. The phone number to call is 270-377-2384.
Q: What conditions does OHMCH treat?
A: We treat coronary artery disease, peripheral vascular disease, arrhythmias, atrial fibrillation and flutter, congestive heart failure, hypertension, hyperlipidemia, and postural tachycardia syndrome.
Q: What services and treatments do you offer at OHMCH?
A: We offer stress tests, echocardiograms, Holter monitors, cardioversion and implantable loop recorders. If a patient needs more invasive procedures, like catheterization or coronary artery bypass grafts, they may go to Owensboro Health Regional Hospital.
Q: What advice would you give for maintaining heart health?
A: Make healthy diet selections, exercise, keep blood pressure and cholesterol where they should be, maintain a healthy weight, and refrain from tobacco use.