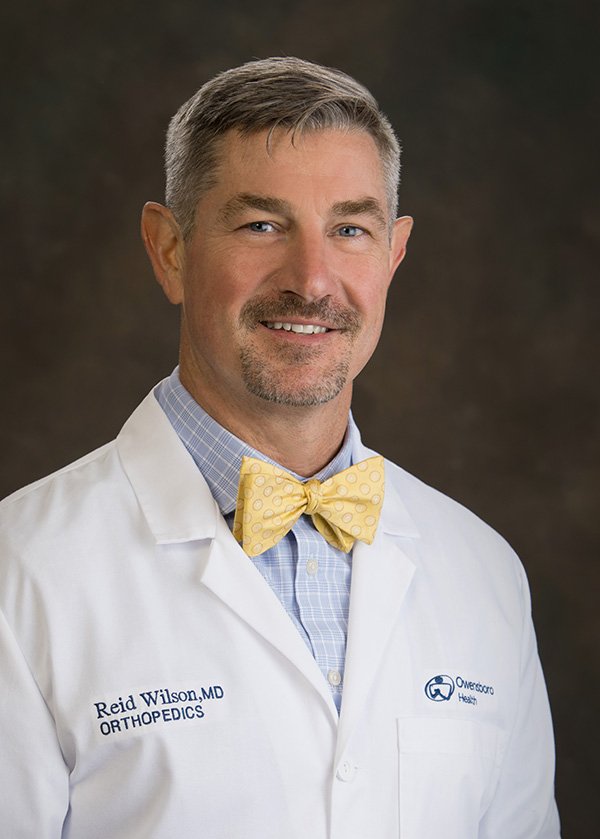 Reid Wilson, MD
Specializing in
Orthopedics
Sports Medicine
Affiliation: Owensboro Health
Biography
Dr. Reid Wilson knows what it's like to play through the pain, and today he tries to make sure none of his patients has to face that struggle.
Wilson is one of three orthopedic surgeons at Owensboro Health and said he especially enjoys working with younger athletes because of his past experience.
"I played high school football and baseball and then I played college football. I had an injury my junior year requiring surgery and over the next couple of years I continued to have problems with one thing or another requiring a couple surgeries. I eventually realized I wasn't big enough to continue playing football at the level I wanted to play," Wilson said. "I was interested in medicine and I was an athlete. Staying injured from one thing or another led me to identify orthopedics as something I really enjoyed."
Wilson said it's a job he thrives on.
"Orthopedics is one of the best practices to actually fix things. Surgeons get to fix things so when someone comes to me with a problem I get to generally solve their problem. That's one of the most rewarding parts of this," Wilson said. "I definitely relate to athletes and we're very involved in athletics. We try to get to know the kids as best we can, mentor them when they're younger athletes up until college age, get involved in their life and be a good mentor and not just a treating physician during the time we get together."
Coming to Owensboro Health was a great move, Wilson added.
"I was in Henderson and I was looking for a little bit bigger of a market and going to Owensboro offered that, just being involved with a wider variety of practice opportunities," Wilson said. "Practicing here is really a blessing. I will get to spend the majority of my career in a state-of-the-art facility. I'm very, very lucky. It's as good a hospital as there is in the country."
Wilson also has a family and said he enjoys spending time being physically active with them.
"I have a total of four kids now, 17, 16, 13 and 11. They're all active in one thing or another, whether it is football, basketball, golf, soccer; they play a little bit of everything. We try to stay active and do things together. The biggest thing we can do together now as a family is ride bikes. I'm an avid cyclist and I enjoy running. That's probably the thing I do most with my kids outside of their usual activities," Wilson said. "I preach staying healthy. I'm not always the best, but I try to practice what I preach. I try to tell people to live with an active, healthy lifestyle and I try to do the same and encourage that for my kids."
Wilson said his experience as a father also contributes to his practice, especially with younger athletes.
"I can relate to almost any age athlete and I can relate to these injuries. When anyone comes to see you, what they want to know and what you tell them is, 'My kids play soccer, basketball and football,'" Wilson said. "When I see patients I try to treat them as I would treat a family member, and I sincerely mean that and tell people that, and it may be hard for them to believe. I feel like if I treat people like that, everything else will work out okay."
Outside of treating athletes, Wilson said he and his colleagues are in the business of getting people moving again.
"All of us do hip and knee replacements, so we're doing any kind of arthroplasty, whether it is total hips, total shoulder, total knees or partial knees. It is a growing market of transitioning that baby boomer, weekend warrior athlete who's having trouble continuing the kind of things they want to do," Wilson said. "When people come to see me and talk about joint replacement and stuff like that, I tell them, 'We want you to stay healthy and moving,' and that's the goal of orthopedics, to try and give you the lifestyle you want." 
Messages from patients
Read the messages sent to Dr. Wilson on National Doctors' Day.
"I would like to express my most sincere gratitude to Dr. Reid Wilson and all of his staff. Dr. Wilson has always shown the utmost care in treating me over the past four years. I admire his listening and how accessible he makes himself. I have experience nothing but excellent care from Dr. Wilson and all of his staff. Thank you Dr. Wilson!" - Derek
"Thank you Dr. Wilson and the orthopedic staff. You all made my operation and stay in the hospital a reasonable pleasant experience. The knee is working fine, still need some fine tuning but well on the mend. THANK YOU ALL." - Lee
"Dr. Wilson I would like to thank you so much for my new knees. This was the best thing I ever did, and I have you to thank for getting me this way. I can never say enough about how much better I am with these new knees. Again THANK YOU for everything." - Susan
"Love Dr. Wilson and his staff, He has treated my husband over the years and helped diagnosis a problem my daughter had. We wouldn't go anywhere else." - Alena
"My heart felt thanks to Dr Reid Wilson & his side kick, Adam B. They took phenomenal care of me last June when I was injured in an ATV accident. It was a tough 7 weeks but they had my best interest and recovery at heart!!" - Jessica
Mako Robotic-Arm Assisted Surgery
Dr. Reid Wilson is specially trained in the use of Mako SmartRobotics™ for knee and hip replacement. This advanced technology is a clinically proven solution for those suffering with debilitating hip or knee pain caused by osteoarthritis. Mako Robotic-Arm Assisted Surgery enables Dr. Wilson to treat patient-specific knee and hip conditions and help them return to their active lifestyle.
Education & Training
Education
Spartan Health Sciences University, Vieux Fort, St. Lucia
Residency
University of Kentucky, Chandler Medical Center, Lexington

,

Orthopaedic Surgery
Internships
University of Kentucky, Lexington, KY

,

General Surgery
Board Certified
American Board of Orthopaedic Surgery
Publications