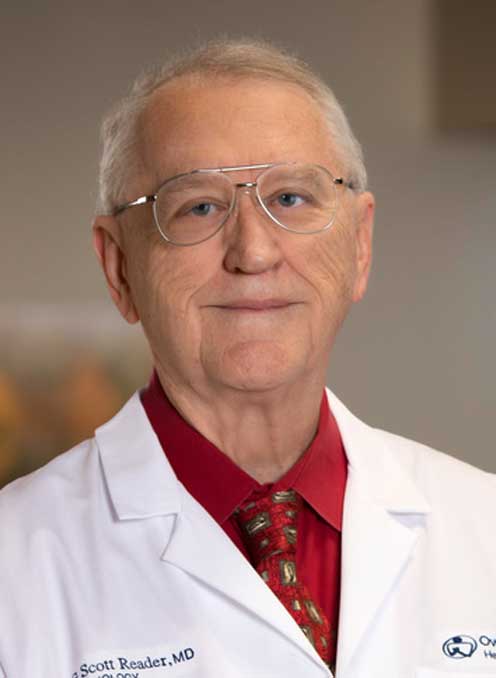 G. Scott Reader, MD, FACC
Specializing in
Cardiology
Affiliation: Owensboro Health
Biography
A patient's message
Read a message sent to Dr. Reader on National Doctors' Day.
"Dr. Reader, almost six years ago, you were at the right place and at the right time to share your expertise and save my life during a massive heart attack. I sing your praises for all the care and attention that I experienced then and over the following years. I am forever grateful to you for the miracle in my life. May God continue to bless you abundantly!" - Nancy
Education & Training
Education
State University of New York (Buffalo, NY)
Residency
State University of New York Affiliated Hospitals (Buffalo, NY)
Fellowship
Georgetown University Affiliated Hospitals (Washington, D.C.)

,

Cardiology
Internships
State University of New York Affiliated Hospitals (Buffalo, NY)
Board Certified
American Board of Internal Medicine
American Board of Internal Medicine, Cardiovascular Disease
Fellow American College of Cardiology
Additional Information
Dr. Scott Reader did a Q&A session for our Spring 2019 issue of Lift. Check out his answers below.
Q: Why did you choose OHMCH?
A: It was kind of like coming home. It's really friendly and a small medical community. Everybody pulls together like family. It was also an opportunity to give people better care.
Q: What parts of your job bring you joy?
A: Seeing someone come in who's really sick, helping them get better, and then seeing them continuing to do well. That's one of the biggest boosts — that you've really made a difference in that person's life.
Q: What are your hobbies outside of work?
A: My mom was an antiques dealer, so I've been in the antiques business for a long time. We'd go "cruising the junk" — throw it in the station wagon and move on. My dad would repair it and sometimes we'd find some treasures. I also like to bicycle, and my wife and I have done quite a bit of hiking.
Q: What is one fun and unique fact about you?
A: Because my first name is Gayle, I won a national merit scholarship to Chatham College for Women. I really wanted to go but they didn't let me. That's why I go by my middle name, Scott.
Q: How can people find your office?
A: We're on the second floor of the hospital, in the old pediatric wing. You make two right turns as you come out of the elevator.
Q: What types of cardiac care are available at OHMCH?
A: We do pacemakers, implantable loop recorders and transesophageal echocardiography. We're getting ready to start up regular pacemaker checks so patients don't have to come up to Owensboro to get those done. We also see patients in the ICU and on the cardiac floor.
Q: If you could give the general population one tip on how to take care of their cardiac health, what would it be?
A: The No. 1 would be, if you're smoking, to stop. The other things would be to keep your blood pressure and cholesterol controlled, and to exercise.