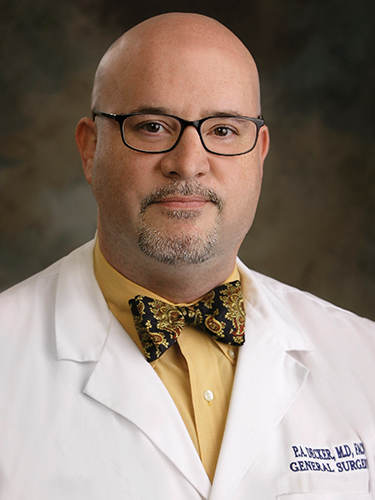 P. Tony Decker, MD, FACS
Specializing in
General Surgery
Affiliation: Owensboro Health
Commitment Statement
"I became a doctor to help people. I felt like I could learn to be there when someone was truly in need and help them through that. When there's a crisis, I like knowing I can be a level head to not only help the patient, but also their family and loved ones." 
Biography
Dr. Tony Decker joined Owensboro Health Surgical Specialists (previously known as Ohio Valley Surgical Specialists) as a general surgeon in 2002 and the Owensboro Health Medical Group in 2013. He serves as the medical director of trauma at Owensboro Health Regional Hospital.
Dr. Decker's ultimate goal is to improve the care of trauma cases in our region. "I am a level head in a time of crisis for my patients and their families. My job is to help my patients understand what to expect before we go into the operating room. It's important that they understand the scope of the situation. Then we can get to what's important and work together to achieve the best quality of life after surgery as possible." He is also proactive in educating the community on trauma and injury prevention. 
Dr. Decker sees patients at the Owensboro and Beaver Dam offices. He also has staff privileges at Owensboro Health Regional Hospital, Owensboro Surgery Center, Ohio County Hospital and Perry County Memorial Hospital.
Dr. Decker is a native of Beaver Dam and a graduate of Daviess County High School in Owensboro. He and his wife, Melissa, live in Owensboro and have three children, Madelaine, Philip and Lucille.
Education & Training
Education
University of Louisville, School of Medicine
Residency
Medical College of Wisconsin

,

Department of General Surgery
Internships
Medical College of Wisconsin
Board Certified
American Board of Surgery
Additional Information
A patient's message
Read a message sent to Dr. Decker on National Doctors' Day.
"Well what a year I have had with this doctor right there by my side. I had abnormal test and thought it would be a while to see a surgeon. Dr. Decker looked at my case and saw me within three days. Which was what I needed; someone to move fast. I have an aggressive cancer that took three surgeries in 5 weeks. But he kept staying on top of it and thankful to call him one of my doctors. Thanks again and now with the help of oncologist Jacob Hodskins and Dr. Decker I am in remission right now! PTL." - Lisa